News
| September 10, 2018
And the Emmy goes to: Cassini's Grand Finale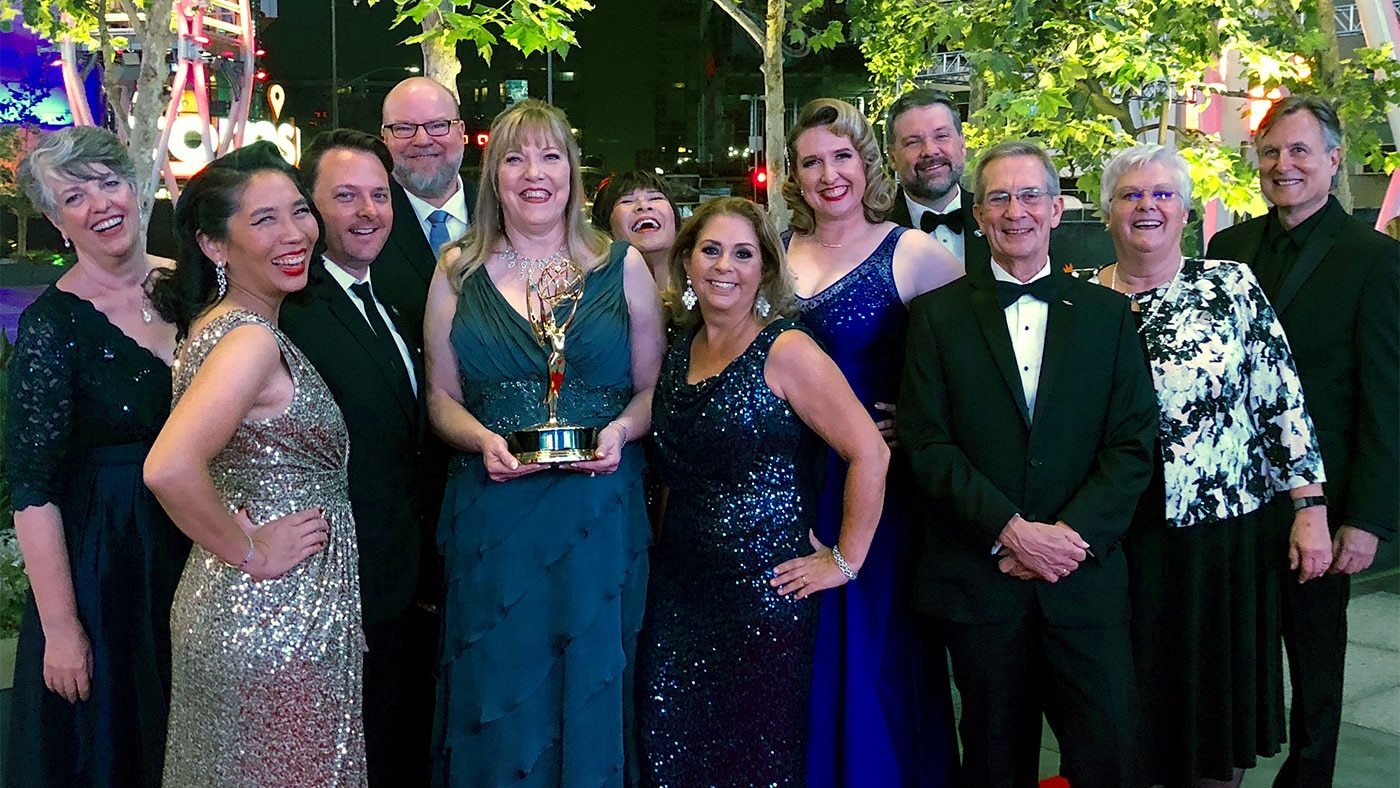 JPL has won an Emmy Award for Outstanding Original Interactive Program for its coverage of the Cassini mission's Grand Finale at Saturn. The award was presented Saturday, Sept. 8, at the Creative Arts Emmy Awards in Los Angeles by the Academy of Television Arts & Sciences.
Accepting the award were members of the JPL Media Relations and Public Engagement offices, and leaders of the Cassini Mission.
"This award represents the special magic that happens when we combine the stunning imagery and powerful science from a mission such as Cassini with the extraordinary talents of an innovative media and communications team. By honoring our interactive program on the Cassini Grand Finale, the Television Academy honored the great cause of space exploration, and I am tremendously proud of our Public Engagement and Media Relations teams for turning the end of a mission into a new beginning for communicating the wonders of our universe," said Michael Greene, the Lab's director for Communications and Education.
In 2017, after nearly 20 years in space and 13 years revealing the wonders of Saturn, NASA's Cassini orbiter was running out of fuel. As a final act, Cassini began a whole new mission-its Grand Finale. This journey into the unknown would end with a spectacular plunge into the planet. JPL created a multi-month digital campaign to celebrate the mission's science and engineering accomplishments and communicate why the spacecraft needed to meet its end in the skies of Saturn.
Cassini's first, daring dive into the unexplored space between the giant planet and its rings kicked off the campaign on April 26, 2017. It culminated on Sept. 15, 2017, with live coverage of Cassini's plunge into Saturn's atmosphere, with the spacecraft sending back science to the very last second.
"The Cassini team is tremendously grateful that our mission's amazing story was told in such a creative way by the communications team at JPL, and that the TV Academy has chosen to honor that story. Receiving an Emmy is one more amazing first for Cassini," said Cassini Project Manager Earl Maize.
The multifaceted interactive campaign included regular updates on Twitter, Facebook, Snapchat, Instagram and the Cassini mission website; multiple live social, web and TV broadcasts during which reporter and public questions were answered; a dramatic short film to communicate the mission's story and preview its endgame; multiple 360-degree videos, including NASA's first 360-degree livestream of a mission event from inside JPL mission control; an interactive press kit; a steady drumbeat of articles to keep fans updated with news and features about the people behind the mission; state-standards aligned educational materials; a celebration of art by amateur space enthusiasts; and software to provide real-time tracking of the spacecraft, down to its final transmission to Earth.
"To an incredible spacecraft that could and did. To an amazing mission that guided her. To our public that followed her for 20 years before she plunged into Saturn but sent science to the end. Go NASA!" said Alice Wessen, manager at JPL's Public Engagement Office.
"Thank you to space fans, if you're a current space fan or future space fan. We can't fit you all into mission control but we can give you a virtual seat and we can put you at Saturn and we can put you at Mars," said Veronica McGregor, manager of JPL's Media Relations Office. "Thanks also to NASA and JPL for having a culture that tells us to shoot for the stars in all of our positions, whether we are explorers or storytellers. This is for science, for science literacy, and discovery."
The Creative Arts Emmys honor outstanding artistic and technical achievement in multiple categories including animation, casting, cinematography, costumes, visual effects, title design, interactive programs and more. Awards in over 50 categories were announced on Saturday. The prestigious Governor's Award was presented to the "Star Trek" franchise, with William Shatner and 100 cast and crew members from multiple "Star Trek" series appearing on stage. An edited version of the show will air on Sept. 15 on the FXX channel.
The Primetime Emmys will be awarded by the Academy of Television Arts & Sciences in Los Angeles on Sept. 17. A full list of winners is available here.
The Cassini-Huygens mission is a cooperative project of NASA, ESA (European Space Agency) and the Italian Space Agency. JPL manages the mission for NASA's Science Mission Directorate, Washington. JPL designed, developed and assembled the Cassini orbiter.