Dione Flyby (D-5) - Aug. 17, 2015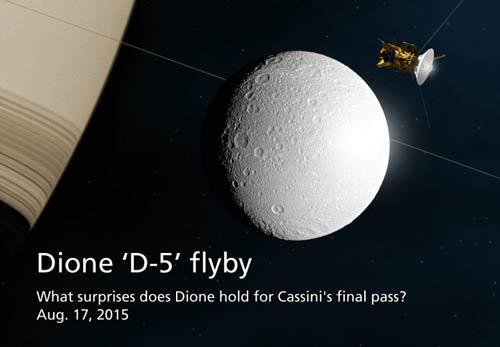 Published:
August 13, 2015
NASA's Cassini spacecraft will zip past Saturn's moon Dione on Monday, Aug. 17 -- the final close flyby of this icy satellite during the spacecraft's long mission.
Cassini's closest approach, within 295 miles (474 kilometers) of Dione's surface, will occur at 11:33 a.m. PDT (2:33 p.m. EDT). Mission controllers expect fresh images to begin arriving on Earth within a couple of days following the encounter.
Cassini scientists have a bevy of investigations planned for Dione. Gravity-science data from the flyby will improve scientists' knowledge of the moon's internal structure and allow comparisons to Saturn's other moons. Cassini has performed this sort of gravity science investigation with only a handful of Saturn's 62 known moons.
Credit: NASA/JPL-Caltech