Saturn, Rhea and Mimas by Elisabetta Bonora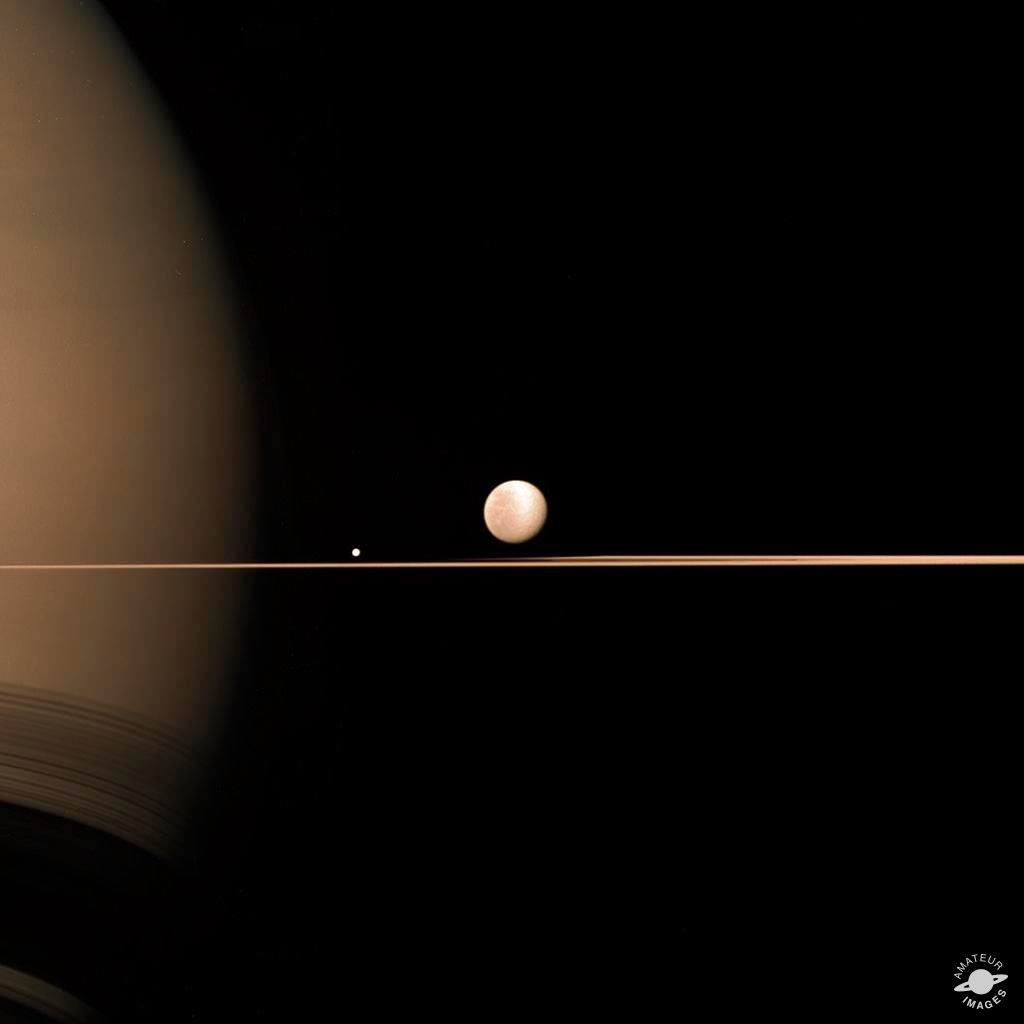 Published:
February 12, 2014
As soon as she arrives home from work, Elisabetta Bonora navigates to the raw images section of the Cassini's website, and she starts to peruse the latest arrivals.
"It's wonderful to be able to take advantage of Cassini's eyes," she says. "I like to dream I am there too."
Bonora, a video and web analyst who lives near Savona, Italy, has been processing Cassini images for five years.
"It's extremely fascinating to put together the snapshots taken by Cassini, and to be able get a sense of the incredible dynamism of the Saturnian system," she says.
At times, an image immediately stands out, and she goes to work on it.
"From the get go, I thought this image was a splendid example of great composition and beautiful geometry: each element in the image is calibrated and well-balanced.
"Cassini truly snapped a wonderful image, with a composition worthy of a professional photographer: a majestic Saturn on the left, very thin rings that are almost perpendicular to the field of view -- and, on top of the rings, right in the middle of the image there are two moons (Rhea and Mimas) suspended in mid-air. It's simply a picture perfect scene!
"I find processing photos of moons particularly fun because, once you overlap the filters, you have to deal with the shift caused by the movement of the moons in their orbits (in respect to the spacecraft). So you have to manually adjust the alignment, which can be challenging, but rewarding. "
The Cassini-Huygens mission is a cooperative project of NASA, the European Space Agency and the Italian Space Agency. The Jet Propulsion Laboratory, a division of the California Institute of Technology in Pasadena, manages the mission for NASA's Science Mission Directorate, Washington, D.C. The Cassini orbiter and its two onboard cameras were designed, developed and assembled at JPL. The imaging operations center is based at the Space Science Institute in Boulder, Colo.
For more information about the Cassini-Huygens mission visit http://www.nasa.gov/cassini and http://saturn.jpl.nasa.gov.
Note: If copyright, creative commons licensing or other restrictions are stipulated in the in the caption above, please contact the submitter for inquiries. (Use Feedback to reach the Cassini web team if you need assistance contacting a particular submitter.) All other images are subject to NASA's image use policy.
Credit: NASA/JPL-Caltech/Space Science Institute/E. Bonora