Narrow, Curious Arc on Rhea's Surface (Raw Image)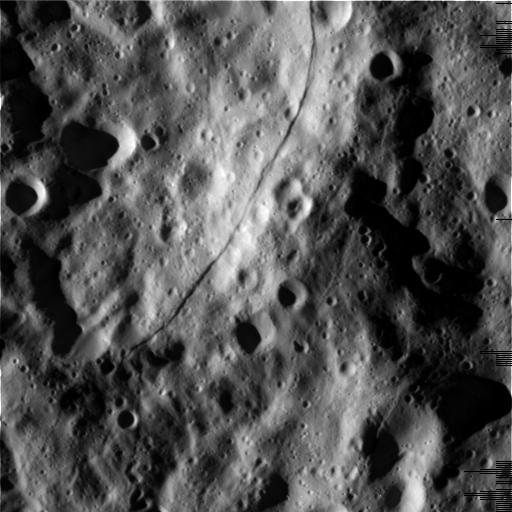 Published:
March 11, 2013
This image was taken on March 09, 2013, and received on Earth March 10, 2013, by NASA's Cassini spacecraft. The camera was pointing toward Rhea at approximately 1,727 miles (2,779 kilometers) away, and the image was taken using the CL1 and CL2 filters.
This image has not been validated or calibrated. A validated/calibrated image will be archived with the NASA Planetary Data System in 2014.
For more information on raw images check out our Frequently Asked Questions section.
Scientists are still trying to understand some of the curious features they see in this image, including a curving, narrow fracture or graben, which is a block of ground lower than its surroundings and bordered by cliffs on either side. This feature looks remarkably recent, cutting most of the craters it crosses, with only a few small craters superimposed.
The Cassini-Huygens mission is a cooperative project of NASA, the European Space Agency and the Italian Space Agency. The Jet Propulsion Laboratory, a division of the California Institute of Technology in Pasadena, manages the mission for NASA's Science Mission Directorate in Washington. The Cassini orbiter and its two onboard cameras were designed, developed and assembled at JPL. The imaging team is based at the Space Science Institute, Boulder, Colo.
For more information about the Cassini-Huygens mission visit http://saturn.jpl.nasa.gov or http://www.nasa.gov/cassini . The Cassini imaging team homepage is at http://ciclops.org .
Credit: NASA/JPL-Caltech/Space Science Institute