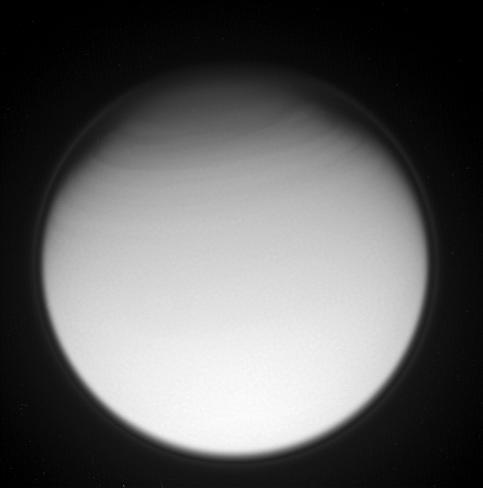 The Cassini spacecraft catches a glimpse of features that reveal important clues about processes occurring in Titan's atmosphere.
The north polar stratosphere exhibits a banded appearance, as fast-moving clouds whirl around the giant moon. The moon's halo -- its detached, high-altitude global haze layer -- is faintly visible here as well.
Planet-sized Titan is 5,150 kilometers (3,200 miles) across.
The image was taken with the Cassini spacecraft narrow-angle camera using a combination of spectral filters sensitive to wavelengths of polarized ultraviolet light. The image was obtained on May 15, 2007 at a distance of approximately 1.3 million kilometers (800,000 miles) from Titan and at a Sun-Titan-spacecraft, or phase, angle of 25 degrees. Image scale is 15 kilometers (10 miles) per pixel.
The Cassini-Huygens mission is a cooperative project of NASA, the European Space Agency and the Italian Space Agency. The Jet Propulsion Laboratory, a division of the California Institute of Technology in Pasadena, manages the mission for NASA's Science Mission Directorate, Washington, D.C. The Cassini orbiter and its two onboard cameras were designed, developed and assembled at JPL. The imaging operations center is based at the Space Science Institute in Boulder, Colo.
For more information about the Cassini-Huygens mission visit HYPERLINK "http://saturn.jpl.nasa.gov" http://saturn.jpl.nasa.gov . The Cassini imaging team homepage is at HYPERLINK "http://ciclops.org" http://ciclops.org .
Credit: NASA/JPL/Space Science Institute