Saturn and the Moon Dance This Weekend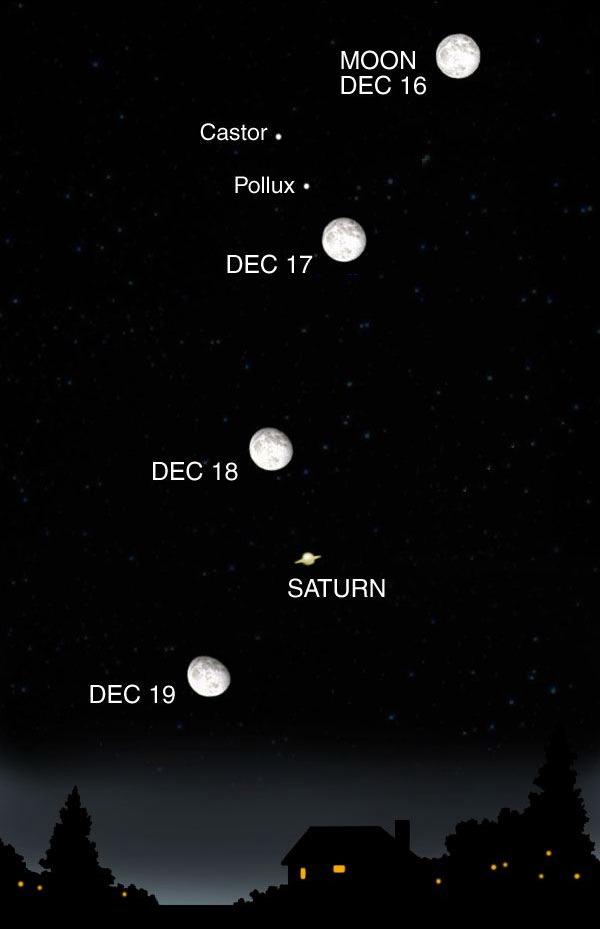 Published:
December 16, 2005
From now through mid-2006, it's Saturn time again. The planet Saturn returns to our early evening sky this month to the delight of stargazers everywhere. Saturn, the Jewel of the Solar System, rises from the Northeastern horizon after 8:00 p.m.
On Sunday, Dec. 18, the moon appears close to the ringed planet, as shown in this sky map. Through a small telescope, observers will see Saturn and its rings. In binoculars, Saturn will appear as a golden oval and the rings may be visible. To the unaided eye, Saturn will appear as a pale golden "star" to the lower right of the moon. The moon and Saturn appear larger on the sky chart.
Two stars are shown on the sky map. These are Castor and Pollux in the constellation Gemini. On December 17, look for the two stars near the moon.
If sky watchers miss this moon-and-Saturn lineup, there's no need to worry. The celestial dance is visible every month, and the moon appears near Saturn again, but even earlier in the evening and higher in the sky, on Jan. 14 and 15, and again on Feb. 10 and 11, 2006.
More Saturn viewing information can be found on our Cassini Kids activity page.