Colorful Threads and Shadows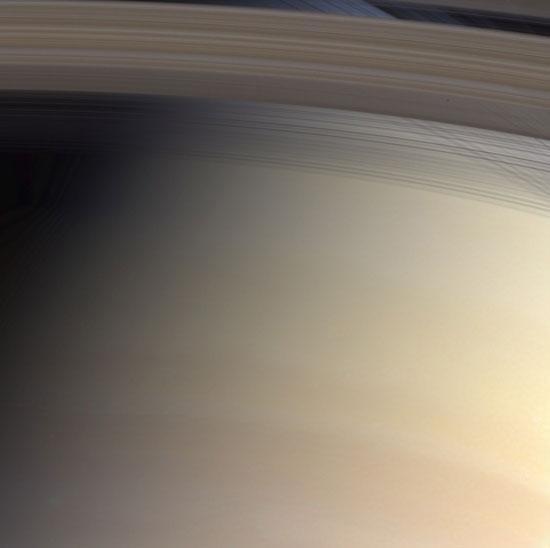 Published:
December 17, 2004


Colorful Threads and Shadows

September 16, 2004



Full-Res: PIA06114






Saturn's faintly banded atmosphere is delicately colored and its threadbare rings cross their own shadows in this marvelous natural color view from Cassini.

The different colors in Saturn's atmosphere are due to particles whose composition is yet to be determined.

The image was obtained with the Cassini spacecraft narrow angle camera on July 30, 2004, at a distance of 7.6 million kilometers (4.7 million miles) from Saturn. Images taken with red, green and blue filters were combined to create this color view. The image scale is 46 kilometers (28 miles) per pixel.

The Cassini-Huygens mission is a cooperative project of NASA, the European Space Agency and the Italian Space Agency. The Jet Propulsion Laboratory, a division of the California Institute of Technology in Pasadena, manages the Cassini-Huygens mission for NASA's Science Mission Directorate, Washington, D.C. The Cassini orbiter and its two onboard cameras were designed, developed and assembled at JPL. The imaging team is based at the Space Science Institute, Boulder, Colo.

For more information about the Cassini-Huygens mission, visit http://saturn.jpl.nasa.gov and the Cassini imaging team home page, http://ciclops.org .

Image Credit:

NASA/JPL/Space Science Institute