For the first time in NASA's history, women are leading three out of four science divisions at the agency: Lori Glaze leads the Planetary Science division, Sandra Cauffman is acting director of the Earth Science division and Nicola Fox is director of the Heliophysics division. The trio of directors are among thousands of women who make history at NASA every single day.
Thousands of women work in hundreds of jobs across NASA. Here are just a few of them.
10 People You Should Get to Know
1
Heather Roper — Graphic Artist
"I like the challenge of visually depicting the science of the mission and getting to show people things that we can't see."
2
Abi Rymer — Scientist
"Most of my heroes have succeeded against the odds in some way."
3
Elisa Quintana — Astrophysicist
"I was definitely a late bloomer. I think it's important for people to know that there isn't just one path."
Mamta Patel Nagaraja
4
Bekah Sosland Siegfriedt — Engineer
"Creating something and watching it take flight was the coolest thing I had ever seen."
5
Mamta Patel Nagaraja — Science Communications
"When my older sister claimed she would one day be an astronaut, on the heels of Sally Ride's launch into space, I made the same claim. It turned out that she outgrew the crazy dream, and my desire only got stronger."
6
Serina Diniega — Scientist
"Be open to opportunities that seem tangential to your overall goal. Sometimes those opportunities give you exposure or experience that will help you stand out from the crowd."
7
Michelle Easter — Engineer
"Modeling satiated my creative and exploratory sides, but getting my education and pursuing engineering helped me become mentally stronger, more rational, and generally more content with my life."
8
Rosaly Lopes — Vulcanologist
"I saw my first volcano erupt, and that changed my mind forever. The active crater had a beautiful fire fountain spurting red lava about 30 to 50 feet up into the air. It was the most beautiful spectacle, and I was hooked on volcanoes from then on."
9
Margaret Kivelson - Scientist
"The thing I remember was that there was a slide rule in my mother's desk and I knew that had something to do with physics, and it looked very interesting. But, reemember, I started before there were any spacecraft!"
10
Adriana Ocampo — Scientist
"Space exploration was my passion from a very young age. I knew I wanted to be part of it. I would dream and design space colonies while sitting atop the roof of my family's home in Argentina."
Adriana Ocampo
Going the Distance
Helene Winters and Suzanne Dodd lead NASA's New Horizons and the twin NASA Voyager missions – humankind's three most distant spacecraft.
"I use three words to describe myself. I'm an explorer, an engineer and a fighter.
The Problem Solver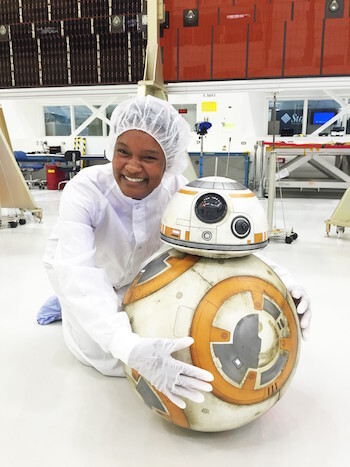 Talk to Tracy Drain for any length of time, and the word "fun" peppers the conversation, even when discussing things most people don't relish.
Tests at school? "Oh, they were so much fun!" she exclaims with bright eyes and a smile.
Since she was young she's loved puzzles and brain teasers, and she tackles engineering challenges as more problem-solving games to enjoy.
"The important thing about being a scientist or an engineer is learning how to think critically," she says, "learning how to be creative, learning problem solving and learning how to learn."
Read More