---
Not many geophysicists have beaten three-time America's Cup winner Dennis Conner in a sailing race. But Dr. Anne Kahle did. She made the cover of Yachting magazine in November 1982. A photo features her steering her boat Red Shift -- named for Einstein's law describing one effect of gravity on light.
The instrument she helped create for NASA's Terra satellite measures light and radiance. Anne has helped skipper the satellite along since the very beginning and heads the instrument's U.S. science team. Anne uses the satellite data to study lava fields in Hawaii. Her colleagues describe her as a founder in the critical field of remote sensing.
Born in Auburn, Wash., Anne moved with her family to Alaska when she was 6. Her family homesteaded 160 acres on the Kenai Peninsula, where her father built his own log house.
There were no schools and no roads. "For high school, my brother and I went to the town of Kenai," says Anne. "They let me graduate when I was 16. My parents looked around -- there were ten families in our area -- and said that there are no eligible bachelors here, you need to go to college to meet some."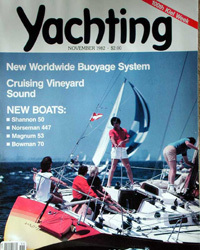 Anne did find love at the University of Alaska. She started out studying agriculture and switched to wildlife management. "Then I was offered a job in the geological institute and I fell in love with geophysics." She worked with renowned British mathematician and geophysist Sydney Chapman, a pioneer in geomagnetism.
While completing her master's degree, she fell in love again, this time with a fellow Earth scientist, Jim Kahle. After graduation, they married and moved to Nome. "We had four kids in five years," says Anne, "I call those my barefoot and pregnant years."
When her husband wanted to go to graduate school at UCLA, the family moved to southern California. Anne went to work at the Rand Corporation on geomagnetism and climate modeling. "One major factor in climate modeling is the heat balance of Earth's surface," Anne says. "Modelers want to know just how much heat is being exchanged between the surface and the atmosphere. This is a job for remote sensing."
Anne continued her studies and ended up working for NASA's Jet Propulsion Laboratory in Pasadena. She helped design a thermal scanner that was first tested on aircraft and then selected to fly in space.
"I'm not an engineer," Anne said. "I couldn't build an instrument if my life depended on it. But I got to say I want it to do this and to do that and make decisions about the inevitable trade-offs."
Anne still enjoys her job. "I like the team, the people, the data, and the travel."
But she has other interests, too, including three grandchildren. Sailing has given away to another passion." I'm an avid bird watcher," she says. "I've been bird-watching in all 50 states and all over the world." Her lifetime bird list, kept "compulsively," includes 4,260 different species. Now that her husband is retired, he shares the travel, fishing while Anne adds species to her list.