Dana Bolles
External Information Technology Lead
NASA Headquarters
Education
Norwalk High School | Norwalk, California
San Francisco State University
Master's Certificate in Rehabilitation Engineering and Technology
California State University Long Beach
B.S. in Mechanical Engineering
---
Dana works in science communications at NASA Headquarters and was recently featured in the "Faces of NASA" portrait series. She started at NASA in 1995 as a Payload Safety Engineer in the space shuttle program at Kennedy Space Center and has worked at four NASA centers and NASA headquarthers. She is a proud, strong advocate for disability in Sceince, Technology, Engineering and Math (STEM).
---
What first sparked your interest in space and science?
Growing up watching "I Dream of Jeanie," I used to dream about being an astronaut. Because of my disability, I thought that being an astronaut was the perfect job because then I wouldn't need my wheelchair, and I would be on equal footing – so to speak – with the other astronauts. I'm missing both legs, quite a bit above my knees, and both arms, one to two inches below my elbows. I wanted to be in an environment where I could contribute to the mission and not need my equipment as much. That was my original dream.
How did you end up working in the space program?
When I was going through high school my family was very encouraging and always asked me, "Dana, what college are you going to go to?" It wasn't necessarily, "Do you want to go?" but more like, "You are going to go," and "Where are you going to go?" I was really thankful because it was kind of a no-brainer.
In high school, I would take advantage of college prep programs. One program enabled me to take two courses at Rockwell International, a major NASA contractor back then. I took CAD/CAM and Mechanical Engineering. One course was held in a hangar, where I would look up and see the NASA "meatball" insignia hanging on the wall. These courses helped me see what it might look like to work as an engineer in the space industry and I really liked it.
To me, it made sense to get a degree in mechanical engineering because I rely on equipment so much to be independent. I figured having that skill and knowledge would be helpful not only in my work life but in my everyday life.
Tell us about your job. What do you do?
I work at NASA Headquarters in the Science Mission Directorate, within the Science Engagement and Partnership Division. I am the external information technology lead. I'm managing the day-to-day operations of the science.nasa.gov website. Right now, we're actually just beginning to implement a major program for the agency: Web Modernization. That's my biggest focus – working with the science community on modernizing our site and realigning our digital footprint in order to better serve the public and NASA science.
What have been some of your favorite projects to work on?
I've had a few roles at NASA that I've really loved. As a payload safety engineer, for one. I was assigned to the Mars '98 Orbiter, aka Mars Climate Orbiter; the Tracking and Data Relay Satellite (TDRS); and the third assembly flight (Flight 3A) of the International Space Station (ISS). I was just getting started with NASA and it opened up my whole world to space science. I also loved working with the Human Research Program – one of NASA's top-notch programs in my opinion.
I do a lot of public outreach and presentations. For example, I've been fortunate enough to be a guest on Gravity Assist, the NASA podcast that's hosted by Chief Scientist Dr. Jim Green. I also participated in the "NASA's STEMstars" webchat series. Much of my outreach is speaking to younger kids and students and encouraging them. It's really fulfilling.
Prior to being selected as an AstroAccess ambassador, I was also selected as an If/Then Ambassador, which is a group outside of NASA. They took all of us ambassadors – we're all women, most of us working in STEM – and they promoted us across the country where we could reach a wider group of girls, mostly in middle school.
People need to realize not to make assumptions. Be open and curious about the abilities of everybody.
In addition to reaching the girls and having that impact, there was one other exciting aspect of being an ambassador. Rosa Rios, former treasurer of the United States, had a study commissioned, where they looked at all of the public statues in 12 major cities and found that only six were of non-fictional women. The head of the If/Then Ambassador Program decided she would scan all of the ambassadors and 3D print them at full scale. She had them exhibited altogether in Dallas, Texas. It's awesome to be part of this – the largest exhibit of real women in STEM in the country, probably in the world.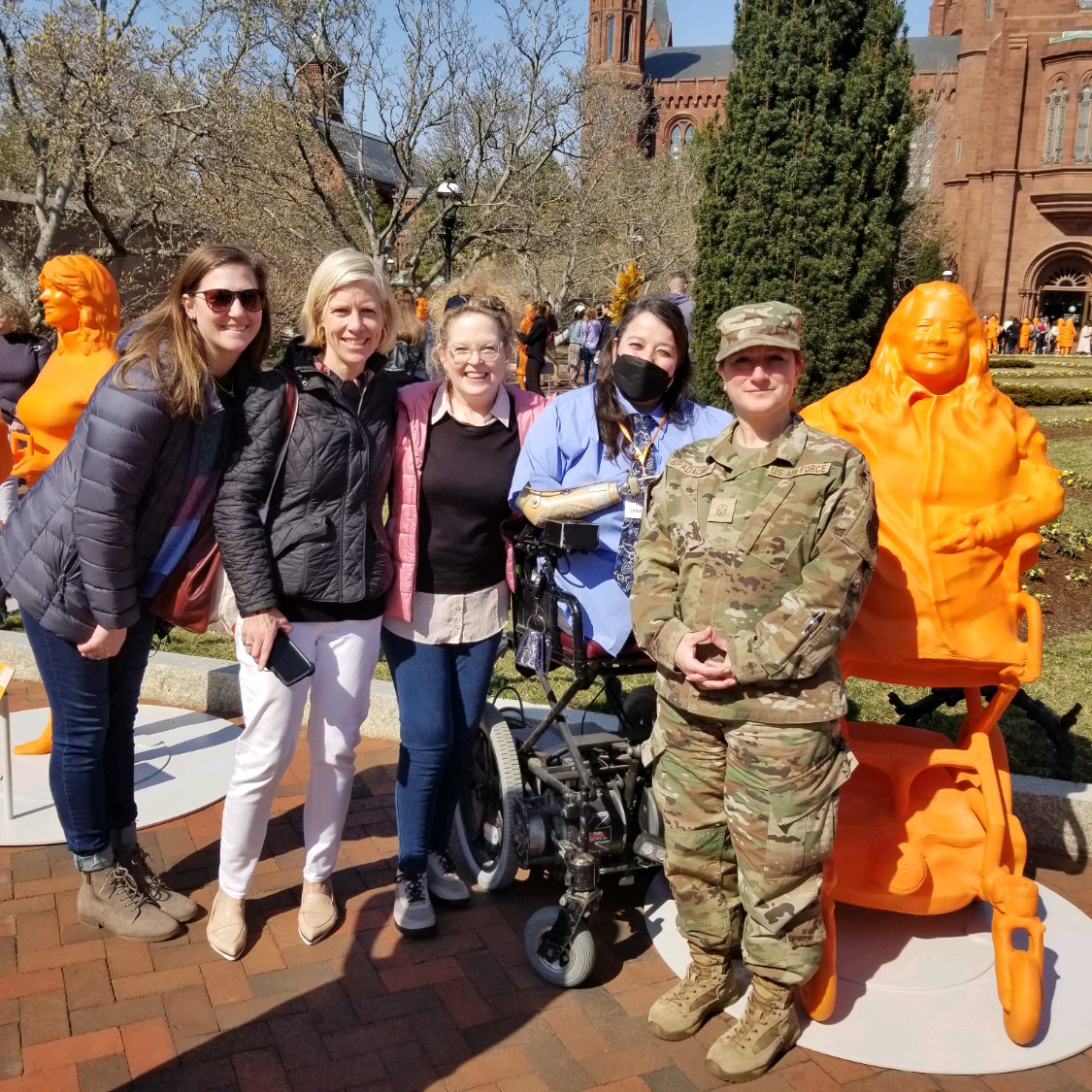 I love NASA. NASA is a great agency to work for because I love the fact that we're here to serve the American people. We not only have amazing spacecraft exploring our solar system and beyond, but we also have quite a few satellites looking back at Earth and helping with things such as disaster relief, agriculture, etc. I just think that's the best thing – that we are here not only to enable space exploration but also to help the people here at home.
What's one piece of advice you would give to others interested in a similar career?
The best advice I can give is to keep focused on what you want. You need a lot of drive. When you hear all the negativity from people around you, or you feel like people don't believe in you, you have to not let that affect you and your trajectory. Instead, surround yourself with people who give you the love and support you need to reach your accomplishments.
What has been your biggest challenge, professional or personal, and how did you overcome it?
Life throws us a lot of curveballs, right? There are a lot of things that happen in life that could derail you, like losing loved ones and failing at something you really want. I lost four family members – those were really tough times in my life. But at the end of the day, I had to decide to keep going, no matter what happens.
As far as people I work with, I think the biggest challenge is just the people who immediately see me and want to make assumptions about what I can't do – because my disability is very visible. Some people are uncomfortable and/or awkward around disabled people and it could negatively impact talking with me, inviting me to meetings, giving me opportunities, etc. That could be tough to overcome, depending on who that person is.
As disabled people, we end up having to work harder to prove ourselves all the time. To overcome that, just show people that they're wrong for putting you in these little boxes, and thinking you can't do more.
I'm very fortunate to be part of the NASA Science Mission Directorate. They really do value diversity, inclusion, equity, and accessibility, and that's a good feeling to have about your organization.
Who inspires you?
There are people I work with who inspire me. I work with a really great group of astrobiologists and they all inspire me. They're the experts in their fields, trying to answer the question, "Is there life beyond Earth?" Every time I meet with them, I'm eager to hear what they have to say on the topic.
I'm also inspired whenever I see anybody who has all their stuff together. They have their head on straight, and they're moving on and doing great things. To me, all of that's inspiring, and it helps me to want to do my best.
What are some fun facts about yourself?
I'm one of 12 people selected as ambassadors for the first crew for AstroAccess, which is a privately funded project to advance disability inclusion in space exploration. We all have disabilities and we completed a zero-gravity flight on Oct. 17, 2021. On that flight, we focused on what kind of assisted devices we might need to be successful on the space flight mission. We're each looking at microgravity from our perspectives to figure out what sorts of things might be helpful. What can we do to make it happen?
What is your favorite space image and why?
I love images of Saturn with the rings. The planet is just beautiful.
Additional Links