Alicia Joseph
Research Physical Scientist
NASA's Goddard Space Flight Center / Hydrological Sciences Laboratory
Education
University of Maryland, College Park
Ph.D. in Geography and Environmental Engineering
Johns Hopkins University
Master's Degree
Hunter College of the City University of New York
Master's Degree
---
What first sparked your interest in space and science?
Growing up in the beautiful dual-island of Trinidad and Tobago, I was surrounded by beautiful natural resources. I spent every minute I could spare outdoors enjoying the exotic plants and animals. I would often ask "why?" and "how?" I was very curious about how the ecosystem of plants and animals appears to work seamlessly together. I studied environmental science at the undergraduate level, which led to my continued interest in Earth sciences.
How did you end up in the space program?
As a Ph.D. student at City College of the City University of New York, I became interested in remote sensing of soil moisture. As I came closer to formulating my thesis topic, my adviser contacted the Earth sciences department at NASA's Goddard Space Flight Center (GSFC) so I could learn from experts in the field. I spent a summer interning with the Hydrological Sciences Laboratory. Following my summer internship, I applied and was accepted to the NASA Educational Co-op, now the Pathways program. I switched universities and continued my studies in Maryland at the Johns Hopkins University while working as a physical scientist in the Hydrological Sciences Laboratory.
Tell us about your job. What do you do?
I am a research physical scientist in the Hydrological Sciences Laboratory at NASA's Goddard Space Flight Center. In this role, I use remote-sensing techniques (methods for observing something from a distance, such as by satellite or aircraft) to study soil moisture in various wavelengths, particularly through microwaves (the short and low-energy end of the spectrum). I use this information to improve estimates of soil moisture in weather prediction models, or simulations. My work often takes me on field campaigns and conferences worldwide.
Since NASA provides opportunities to take on multiple roles, I also serve as the activity manager for MAIANSE - Minority University Research and Education Project (MUREP) for American Indian Alaska Native STEM (Science, Technology, Engineering, and Math) Engagement. In this role, I get to connect science and culture while fulfilling my passion for education and teaching. NASA's MAIANSE activity seeks to increase American Indian and Alaska Native engagement in STEM through authentic and unique NASA experiences.
What's one piece of advice you would give others interested in a similar career?
Make and keep connections. It's important to network with others in your field to build professional relationships and teams. Mentors play a significant role, not just during an internship, but also to serve as a resource for career guidance. Don't be afraid to get out of your comfort zone.
Who inspired you?
My mother, who was also a great teacher to me. She encouraged me to reach for the stars and gave me the freedom to explore. She emphasized the importance of learning from your mistakes; she called it another opportunity to learn. She continues to be my role model.
Also, when I first arrived at NASA GSFC, senior scientists who served as mentors were instrumental in my transition, and continue to mentor me even after 20 years.
Describe a favorite moment so far in your career.
My favorite moment was when I experienced the launch of the Soil Moisture Active Passive (SMAP) mission, which measures moisture in the top 2 inches (5 centimeters) of soil from space.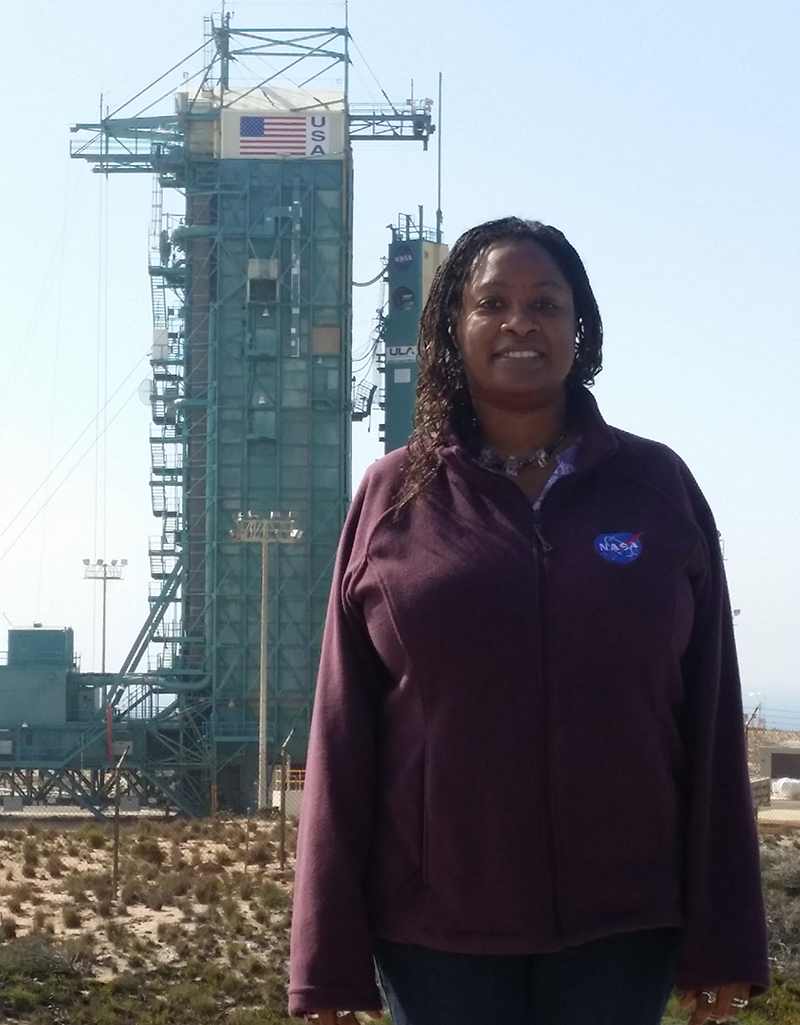 What do you do for fun?
I enjoy outdoor activities like walking, hiking, fishing, and campfires. I love music, gardening, and animals. I have an affinity for learning languages, and I appreciate and respect other cultures. I desire to serve as an example of "possibility" for youths worldwide.
What is your favorite space image and why
My favorite space image is of the "Pillars of Creation," as seen by the Hubble Space Telescope. I get lost in this image thinking about possibilities.