Rosa Castro
NASA Citizen Scientist
Education
Seward Park High School | New York, New York
Fordham University | New York
Psychology
Touro College & University System, New York
M.S. Mental Health
Touro College & University System
Ph.D. Organizational Psychology
---
Rosa is a semi-retired mental health therapist who has settled in Sweden.
What motivated you to volunteer as a NASA citizen scientist? How did you learn about NASA citizen science?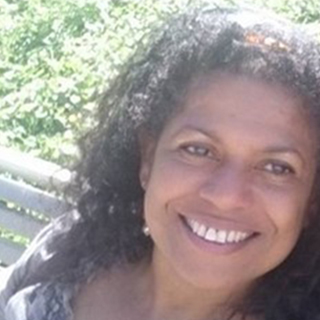 I took an online course through an online learning platform, called "Astronomy – State of the Art," with Chris Impey, a University Distinguished Professor of Astronomy at the University of Arizona. In the course, he shared information on Zooniverse and the Backyard Worlds Planet 9 project.
But my interest in astronomy is lifelong. I was a kid when the Apollo missions launched. Mr. Lipski, my fifth-grade teacher, was into astronomy, and he taught as best he could. I was a bit bold for my age – it was a time when women were still getting used to the idea of being equal. When Mr. Lipski said, "One day women will be astronauts," I believed him. No one else did. I said, "You watch, women will be astronauts!'
What kept me from being an astronaut was that I didn't know what type of training was required. I took the U.S. Air Force entrance exam, hoping to become a pilot. Though I scored high in mechanics and electronics, I was encouraged to go for clerical roles. I declined and continued to college. I've always felt people would have done more to develop their career goals if they had known which options were available. As a female growing up in the '60s, I was often encouraged to take office-oriented subjects or told simply not to worry about being too educated since men did not care for women smarter than them.
I was really into astronomy as a kid. I got into other subjects – psychology and history – since stargazing is hard in New York City because of all the light pollution. The only time I could truly see the stars was when I would go camping up north in Buffalo, New York. There, you can see the bright stars in the open fields where the sky is clear and free of city lights. When you can see the open sky, out in the countryside, the view is always astounding, packed with stars and visible planets.
In fifth grade, I remember telling my classmates women would be astronauts one day… I was laughed at since I was a female and brown, but I never stopped believing in that possibility. Now, today I can say I have the last laugh!
Fast forward many years. I moved to Sweden in 2015. I had just finished my dissertation in Organizational Psychology and had some health challenges, which kept me from seeking work, so I had time to do things I'd always wanted to do. I took several courses online – one of them was that astronomy course taught by Dr. Chris Impey. He shared a lot of information and resources such as Zooniverse for independent studies. I took the instructor's suggestion to check out the website, and I was hooked.
I got into it – got into the little things I was seeing. For hours, I kept looking at the charts, not knowing what I would find. I didn't interact with the community since I did not speak the lingo. I felt too shy to engage. I felt a bit unprepared to have an astronomy conversation. Instead, I kept to myself, or on occasions, I would speak to a friend of mine who works for the Canadian Space Agency. He was my "go-to" person when I had a question.
What are your favorite citizen science projects to work on, and why?
I do not have a specific favorite, since I try to look into whatever is open for research on Zooniverse. Some popular projects quickly run out of data or images. Some of the recent NASA projects I've done and enjoyed include Backyard Worlds and Planet Hunters. I keep going back to Planet Hunters, but frequently there's no data left to process, so I look for something else.
I've also done projects in history, nature, social science, language – but mostly astronomy.
What do you do when you're not doing science with NASA?
I live in Sweden, and I'm a semi-retired mental health therapist, which means I get private clients I work with online on occasion. Meantime, I spend time blogging, gardening in the spring, and creating dioramas for my garden. Currently, I'm keeping my social distance during the COVID-19 pandemic, which I find easier to do in a country where people are used to spending a lot of time indoors due to the cold or rain.
What have you discovered or learned as a NASA citizen scientist?
In 2017 I was one of four citizen scientists to find the first brown dwarf in the Backyard Worlds Planet 9 project. My friend at the Canadian Space Agency was more excited than I was about my discovery! Brown dwarfs are tough to find. And the funny part is, I have horrible eyesight.
I like to look at the sky now and know I'm looking at something I helped find and something we'll likely never see in person. I was excited to be part of it.
I think my skills as a mental health therapist were part of what helped me notice those little details on the screen. I've always seen things; it's one of my strange quirks. It's nice to discover that these tools help tackle something different from my usual routines.
Which peer-reviewed research publications have you been involved with through your NASA citizen science work?
The paper is called "The First Brown Dwarf Discovered by the Backyard Worlds: Planet 9 Citizen Science Project."
I was an observer in this discovery. I was interviewed about the process and what made me interested in being part of it. I wasn't part of the writing group. I did look at a lot of graphs; I looked and looked! I did up to 50 records in a sitting. I felt driven to look; intuitively, I felt like I knew I would find something.
What advice would you give to others who might want to volunteer with NASA citizen science?
I recommend that you just take your time and enjoy the process – and don't worry about making a significant discovery. Just sit back and look through the records.
It helps if you pick a project in a subject area you like. You've got to enjoy space if you're going to look at as many records as I did! There are lots of opportunities to learn online if you look.
Citizen science is pretty cool. It gives everyone access.
What are some fun facts about yourself?
I grew up in a time when women were still getting used to being considered equal to men, and people of color were used to being treated as if they were invisible. I recall learning about astronomy from my fifth-grade teacher Mr. Lipski, who piqued my curiosity. I remember telling my classmates women would be astronauts one day; of course, when they heard me they mocked me and said that girls could not make such career choices because they were not smart enough. I insisted I was right and that one day they would see for themselves, and though I was laughed at since I was a female and brown, I never stopped believing in that possibility. Now, today I can say I have the last laugh!
My dad was self-taught, bilingual, and literate in English and Spanish. He was instrumental in encouraging me to learn, and he had always wanted to be an engineer. If I'd known that engineering was a path to being an astronaut, I would have followed it – for my dad and me.
I would even have considered a career at NASA if I had known the path to take!
Additional Links