Annette Bombosch
Citizen Scientist / Polar Guide
Co-founder, The Polar Citizen Science Collective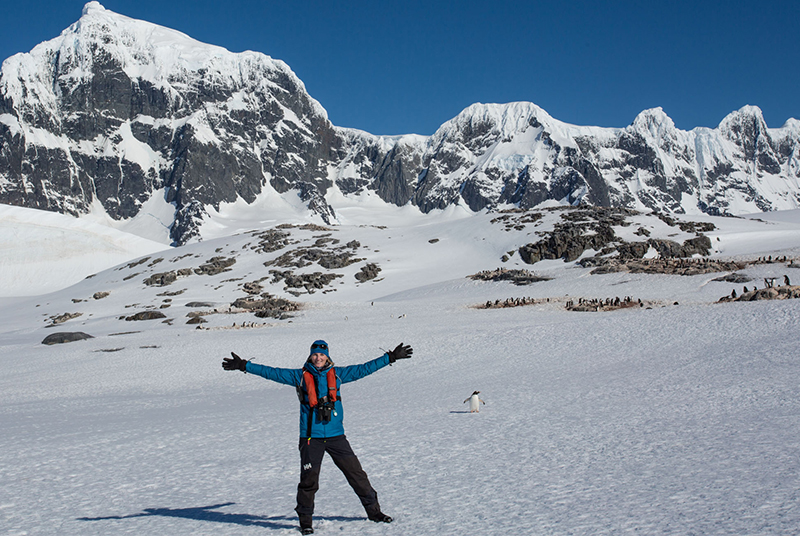 Education
Alfred Wegner Institute, Helmholtz Centre for Polar and Marine Research, Germany
Biology
---
How did you become a NASA citizen scientist?
When citizen science projects were first offered on tourism trips to the polar regions, I was thrilled to help create a citizen science program to add to the itinerary and to engage guests in data collection. A biologist by training, I know how tedious it can be to gather data, so having the opportunity to contribute to science by collecting data as a citizen scientist is a fantastic way for anyone interested in science to get engaged.
I believe that collecting data as part of a citizen science project gives travelers a deeper purpose, and it helps scientists obtain valuable data they often couldn't get without the help of others. This is especially true for the remote polar regions, where conducting research is challenging and expensive.
What are your favorite citizen science projects to work on?
It's really hard to choose. Each project is different and offers rewards. But who doesn't like lying on the ground observing the clouds as they whip past? Participating in online projects, such as MAPPPD (Mapping Application for Penguin Populations and Projected Dynamics) can be fun. But given that I spend a lot of time at sea, I would much rather participate in those projects that allow me to help collect data out in the field.
Citizen science allows us to take part in unraveling the mysteries of Earth.
What do you do when you're not doing science with NASA? Tell us about your job and your hobbies!
I work as a polar guide both in the Arctic and Antarctic, typically for 6 to 8 months of the year, educating travelers from all over the world about some of our planet's most beautiful, pristine, and fragile places. I am very privileged to work in such an amazing environment, and I love sharing my passion for the polar regions with like-minded travelers.
I'm thrilled that the companies I am working for are offering citizen science projects on their trips. It is such a great way to engage guests in participating and give back to these regions. For many visitors, it's their first time trying their hand at data collection. Most never realized how easy it actually is to become a citizen scientist. Citizen science projects like NASA's GLOBE Program led a few polar guide colleagues and me to found The Polar Citizen Science Collective, a non-profit promoting polar science, and tourism by engaging travelers in citizen science projects. Over the years, hundreds – possibly thousands – of polar guests have been exposed to citizen science during their travels. I hope that many of them will continue with citizen science projects in their local areas when back home. The enthusiasm is definitely there.
What have you discovered or learned as a NASA citizen scientist?
Citizen science allows us to take part in unraveling the mysteries of Earth. It also enhances our understanding of the polar regions, and teaches us how to contribute to the protection of our planet. Nature is unconditionally giving, and citizen science projects like those offered by NASA allow us to give back.
What first sparked your interest in space and science?
Since I was a little kid, I have always been interested in what nature has to offer. I spent most of my childhood days outside exploring and cataloging the animals and plants in my neighborhood. I am still fascinated by the sky – be it the formation of clouds and all the various shapes they can have, or the millions of stars we can see during a clear night. It's just magical.
What's the biggest challenge you've faced as a NASA citizen scientist?
I guess one of the biggest challenges for each citizen scientist is to stay interested in the project. One great way of holding that interest is to give feedback to citizen scientists. NASA's GLOBE Observer satellite observation matches are a great tool because the matches show that the data collected is valuable.
Citizen scientists really need to feel that the data they collect is making a difference, and getting feedback – even as simple as a satellite photo matching the observation – is very fulfilling. Collecting data in the polar regions, of course, also comes with a variety of challenges specific to these remote regions. The internet coverage is very limited, and the apps we use need to work offline. Even the weather can be a problem. Storms make for some really great clouds, yet they also make observing them difficult when you're in the middle of the ocean on a ship that is rocking and rolling. But that's all part of the fun.
What advice would you give to others who might want to volunteer with NASA?
What are you waiting for? Citizen science is fun, easy, educational, and rewarding. There still is so much to learn about our beautiful planet, and all of us can contribute. NASA offers a variety of projects, including training materials, that make it really easy for anyone to get started. Be sure to check out the website.
What inspires you?
Antarctica – the icy, southernmost continent, inspires me. Everything about this place is hostile. It's the highest, driest, coldest, and windiest continent on our planet – yet its beauty and pureness grabs hold of you in ways you've never before imagined. Antarctica is full of life, all well adapted to take advantage of the short, yet immensely productive summer season. Antarctica makes you humble in a very healthy way. There, you learn that it's not us humans ruling the world. We need to start to live again in harmony with our planet. Earth is really in charge, deciding what we can and cannot do.
What are some fun facts about yourself?
I have been privileged to visit some of the world's most amazing locations. I camped on the Ross Ice Shelf as part of my studies, and I worked in the Weddell Sea for my doctorate, studying habitat suitability of humpback whales and Antarctic minke whales in the Southern Ocean. During my polar guiding career, I have been extremely fortunate to call South Georgia (an island in the southern Atlantic Ocean), the Antarctic Peninsula, Svalbard, Greenland, Franz Josef Land, and even the North Pole, my "office."
A few years ago, together with my colleagues and co-founders of The Polar Citizen Science Collective – Lauren Farmer and Alex Cowan – we conducted a cloud observation right at the North Pole, NASA's most northerly cloud observation. If there was one childhood wish I could fulfill, it would be to jump from one cumulus cloud to the next. I always think that they must be ever so soft and fluffy.
---
Visit the complete collection of NASA citizen science projects and start contributing today!
Additional Links