Kelli McCoy
Systems Engineer
---
Where are you from?
I grew up on a small farm in a small town about 30 minutes outside Nashville, TN.
What first sparked your interest in space and science?
Ironically, I made my first connection with space while writing a paper in college challenging NASA's value to the public. The more I researched the topic, the more I saw the immense value of the space program, not only to scientific discovery in general, but to day-to-day life on Earth. The paper I wrote in college was entitled "Change of Heart." It placed in the paper competition, and I was fortunate enough to meet the NASA administrator at the time, Dan Goldin, and secure an internship at NASA Stennis Space Center. My interest in space has only continued to intensify since that time.
How did you end up working in the space program?
Although I have an engineering degree, my work experience had previously been on the business side of projects and programs at the Jet Propulsion Laboratory, Kennedy Space Center, and NASA headquarters. I had been doing cost and schedule estimation, but I was looking for an opportunity to leverage my academic background. Europa Clipper Project Systems Engineering took a chance on me 2.5 years ago, something that changed my career trajectory completely.
Tell us about your job. What do you do?
I'm a systems engineering analysis lead. In other words, my team solves math problems, in order to set requirements, which tell other engineers how to build a spacecraft.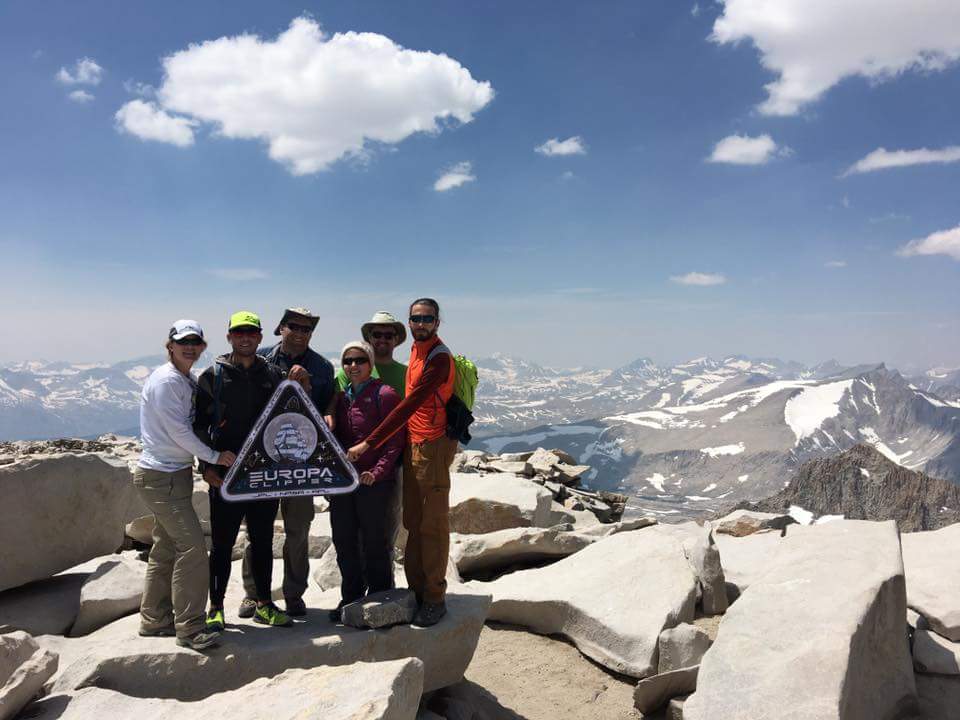 What have been some of your favorite projects to work on?
Aside from the opportunity to be a part of the Europa Clipper team, I think my favorite moments have been reaching out to kids in the community and abroad to teach them about space. I had the opportunity to teach elementary students at SongAm Space Camp in South Korea during the summer of 2017 with several amazing colleagues. I realized I have a responsibility to share my knowledge and experiences with youth so that they know they, too, can work at NASA.
What has been your biggest personal challenge, and how did you overcome it?
Soccer was my life growing up. I traveled around the world playing in high school, and then went on to receive a full Division 1 soccer scholarship. However, five knee surgeries later, I was forced into "retirement" just prior to my senior year of college. The identity crisis that followed was a learning experience for me, but I came out of it a stronger person with a new focus on academics.
I realized I have a responsibility to share my knowledge and experiences with youth so that they know they, too, can work at NASA.
Who inspires you?
Dolly Parton! She is a philanthropist, business woman, comedian, and obviously musically talented. I have read all her books, seen all her movies, and can sing all her songs. I find her inspiring and real.
What advice would you give to others interested in a similar career?
A trite piece of advice that I try to live by is "work hard, play hard." Also, don't be afraid to take risks and try new things. Great things can happen.
What do you do in your free time?
Travel is a passion. I ran with the bulls in Spain, trekked with a troop of gorillas in Rwanda, worked with Mother Theresa's organization in Calcutta, and ran a marathon on the Great Wall of China. I also enjoy country line dancing, hiking, biking, and snowboarding. I teach a running class at Optimist girl's youth group home on Fridays.
What is your favorite space image and why?
I get off the elevator on the fifth floor of my building at JPL, where this photo is prominently displayed, marking the Europa Clipper floor. I feel like the photo keeps me in my place, reminding me what a small piece I am playing in this big universe!