Michelle Easter
Mechatronics Engineer
---
You could say Michelle Easter has had nine lives. Before joining NASA, the mechatronics engineer went from a small-town farm girl in Maryland, to a special effects makeup artist in Los Angeles, to an international fashion model—all before making the switch to engineering and landing at NASA's Jet Propulsion Laboratory. Read on to discover how she decided to go to college for the first time in her late twenties, her work on a future Europa Lander, and that moment a dog house (yes, a dog house!) changed the trajectory of her career...
Tell us a little about the farm where you grew up:
I was born in Maryland and grew up on a farm that my family has lived and worked on for over 100 years. We raised cattle, sheep, chickens, and various crops throughout my childhood. My sister and nephew still live there now.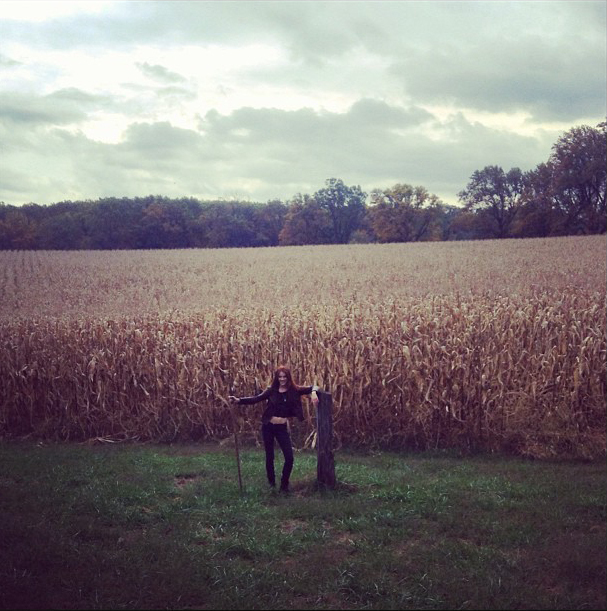 You went from a small-town farm girl to a special effects makeup artist to an international fashion model. How did that all come together?
After graduating high school, I decided to pursue makeup artistry and ended up getting my makeup artist license and moving to Los Angeles. I learned special effects makeup and worked on a few independent movies. Shortly after, I started getting offers for modeling jobs and took them to earn extra income—that extra income turned into full-time income. I kept traveling, modeling for several years doing shoots, shows, catalogs, and editorials in cities like Milan, Dubai, Athens, London, Beirut, and Paris. Eventually, I decided to stick to the States and moved to New York City. That move took me down a different path.
Modeling satiated my creative and exploratory sides, but getting my education and pursuing engineering helped me become mentally stronger, more rational, and generally more content with my life.
On going for it and enrolling in college:
Even though I loved the fashion scene in New York and earned an income that was relatively stable for the modeling world, I decided to try college. I immediately fell in love with school, and started juggling castings with exams to try to earn college credits in physics, math, and computer science at Hunter College. Modeling satiated my creative and exploratory sides and fed the free spirit in me, but getting my education and pursuing engineering helped me become mentally stronger, more rational, and generally more content with my life.
You were in school but didn't know exactly what you wanted to do—until a light bulb went off the day you built a dog house. How did that happen?
It all started with boredom and a whimsical thought: build a dog house for my puppy that would look like he was wearing a king's crown. I gathered a bunch of lumber from our sawmill at the family farm, drove it up to my apartment in New York, and sketched out my design. I cut out the features and built the walls, airbrushed them, and sewed a velvet cushion for the inside. I was having fun thinking of things to add to it, and since my dog was so furry and we were in the middle of a humid Manhattan summer, I tried to put some sort of ventilation in the roof. I found little computer fans on eBay and then stumbled onto lots of chipped and cracked solar cells that provide power at a reduced efficiency, for cheap. I found myself looking up equations to calculate whether the surface area of the roof could be big enough, given the geometry of the base of the house and the reduced efficiency of the solar cells, to power the fan.
At some point, it dawned on me that I was outside on my own, having fun designing and building something without anyone helping me or without having any kind of real education. It made me wonder what I might be capable of if I actually got an education—to have people teach me and work with me, and how much I might actually enjoy designing and building things as a career.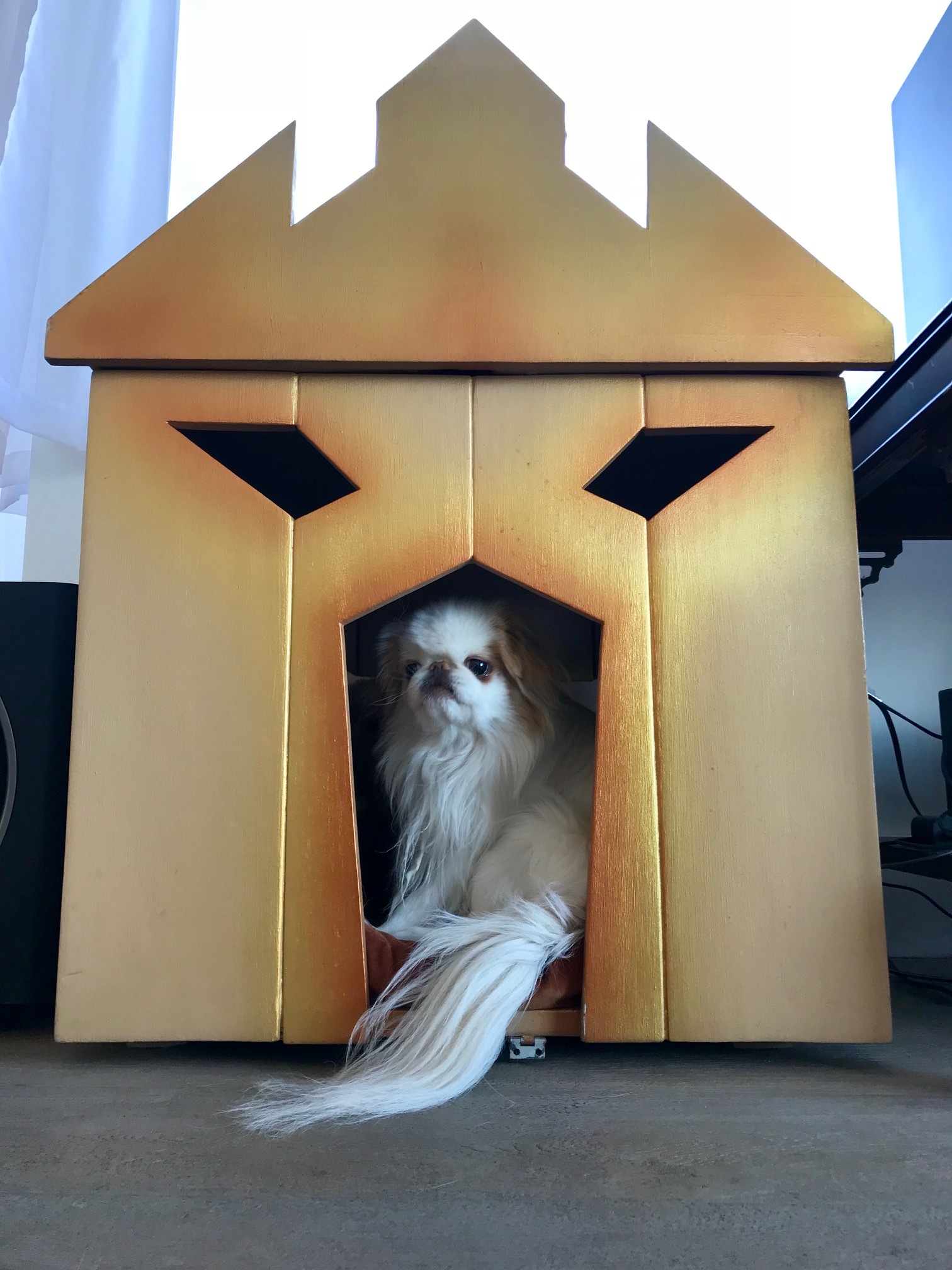 How did you make the official switch into engineering?
After a couple years of being a part-time student at Hunter College, I was "adopted" by a mentor, Professor Godfrey Gumbs, who helped me get internships doing theoretical quantum optics research at Kirtland Air Force Research Lab (AFRL). After a lot of hard work, I was accepted as a transfer into the Mechanical Engineering program at Stevens Institute of Technology.
What was it like going back to school when you were 10 years older than your classmates?
By the time I got into engineering school, I was 28 years old and the other inbound students were around a decade younger than me. They were much more used to using technology—I hadn't pursued education since before Google was around, so I felt at a disadvantage. I also felt kind of alienated from a lot of my classmates. I spent an intense bout of time in my twenties traveling and working in a very different environment, whereas most of the other engineering students took more traditional paths and may have just recently moved away from home for the first time. It helped me so much to be surrounded by my girlfriends whom I had met throughout the years. They helped me "feel normal" in college—to maintain my sense of identity and not feel so culture shocked by the lifestyle change.
You landed at NASA's Jet Propulsion Laboratory sort of by chance. How did that happen?
I was nearing the end of the summer after my junior year in engineering school, and had heard from fellow classmates that if you wanted to go to grad school, you should start applying in the fall of your senior year. I started doing some research to find out what kinds of options were out there and what the grad school application process entailed. I basically stopped searching when I started reading about Caltech. I reached out to a girlfriend whose friend's husband, Capt. David Lehman, worked at JPL. I was hoping she would connect us so I could ask questions about Caltech.
It all happened really quickly and totally unexpectedly—after sending him my resume, he asked if I had ever considered employment at JPL. I was floored, thinking simply, "no." The next day he passed my resume to the Mechanical Systems Engineering, Fabrication and Test Division at JPL. After a phone interview, they invited me to fly out for in-person interviews. It was super surreal. When I got the offer later, I basically jumped around my apartment with excitement on the phone with my girlfriends. I was blown away and knew this could trigger the beginning of a totally new life for me.
You're a Mechatronics Engineer. What does that entail?
Mechatronics is a really fun field that combines mechanical design, electronics, and software. It's similar to robotics and applies to so many modern devices—almost anything with moving parts that requires power. As a Mechatronics Engineer you can create a mechanism and bring it to life using electricity and code, building a system or device that can perform whatever task you dream up. It's a really creative, hands-on, and interdisciplinary world within engineering.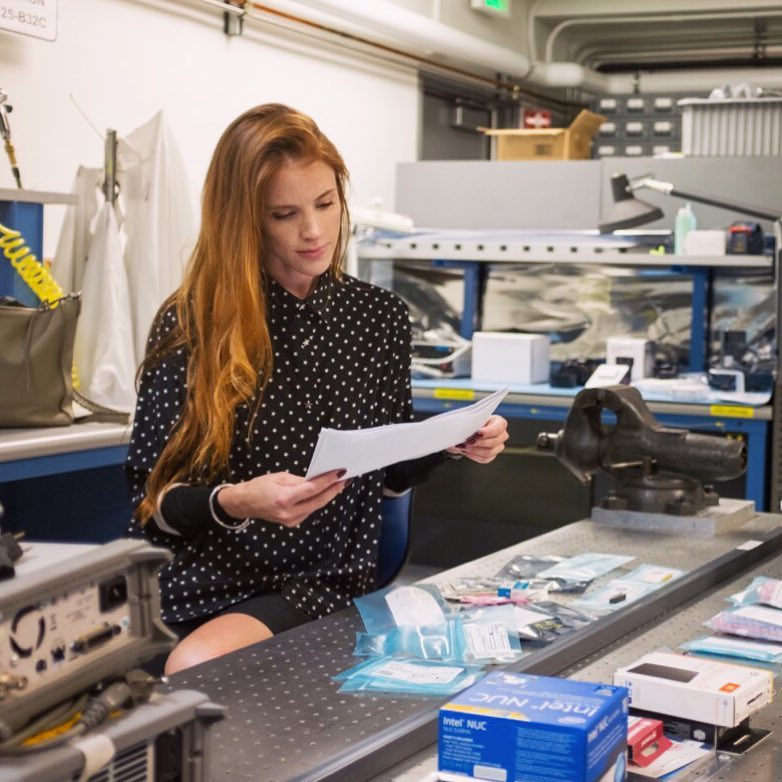 What have been some of your favorite projects?
I'm really enjoying the project I'm working on now—it's fast paced for a flight project and I'm nonstop surrounded in hardware. I'm building and delivering Dual Drive Actuators for Sentinel-6, which is a NASA and ESA Earth observing satellite collaboration. The actuator was originally designed back in the '80s by Doug Packard, who also invented the brushless DC motor, and has provided critical motion control for major spacecraft in NASA history, like Galileo, Cassini, and even shuttle missions. The Sentinel-6 Dual Drive will control a mirror which is part of an instrument that will help measure Earth's ocean topography.
I also loved working on Europa Lander last summer. I worked on the Sampling System team to help build testing facilities at JPL that will help support development of the sampling system for a future Europa Lander. This lander is a really cool problem, since the environment is so harsh with many uncertain variables, such as surface chemical composition and topography. These uncertainties combined with the task of sampling cryogenic ice in a vacuum without affecting or altering what you are sampling is a really awesome engineering challenge.
What advice would you give to others interested in a similar career?
Don't doubt yourself and don't hold back. You can really surprise yourself when you get outside your comfort zone with the intention to learn. Also, get hands-on, project-based experience. If you have a hard time finding an internship, just build something for fun. Hands-on work is a critical path for driving home engineering concepts, and gives you relevant experience to discuss in interviews.
What is your favorite NASA image and why?
I think my favorite ever is probably the famous Hubble Image showing galaxy after galaxy after galaxy—all in one frame. It's absolutely incredible to try to think about all of the possibility of so many countless new worlds and unimaginable life in all of the planetary bodies in all of the galaxies in just that one photo. It gives me chills to look at it and think about the vastness and limitlessness of space.