Jonathan Holden
Citizen Scientist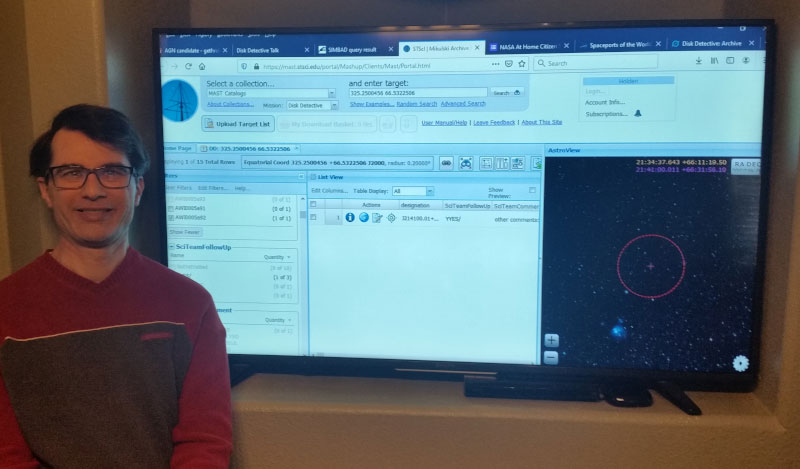 Education
The University of Texas Permian Basin
Nuclear Mechanical Engineering
---
How did you become a NASA citizen scientist?
While studying to become an engineer, I participated in the annual undergraduate research program hosted by the university and discovered NASA's citizen science initiatives online while doing my research. During my fourth year, however, I was diagnosed with chronic illnesses that hindered my academic progress. The university graciously granted me an indefinite medical leave of absence but, with my disability, I was suddenly bereft of my goal to become a licensed engineer.
I soon found that doing research with NASA's Disk Detective project at home kept my mind engaged. I was then invited to become one of the advanced team members volunteering their time studying suitable circumstellar candidates for publication and was very grateful for the opportunity to contribute to the project. I owe many thanks to Drs. Marc Kuchner and Steven Silverberg, and the other Disk Detective team members, for their help in patiently training me so that my contributions are worthy of inclusion in this group effort.
What are your favorite citizen science projects to work on?
Between studies at the university, I assisted with the Higgs Hunters (ATLAS-CERN) project because my research focus involved high-energy cosmic ray particle emissions. However, I soon added Gravity Spy (LIGO) and Supernova Hunters (TNS-IAU) to my list of interests. Out of all these, I began working on Disk Detective in 2014 and worked mainly with that project from then on. It used astronomical resources and databases that were much like the ones I used in my astronomy hobby growing up. The Disk Detective team was also the most engaging of any project I participated in, and it incited me to want to do more with them. I was also asked to help with certain physics problems involving several disk candidates.
"Find a project you feel comfortable working on and have fun."
One thing I really appreciate in volunteering for NASA is that I've never felt pressured to do more than I've been capable of. However, that's what's so great in having such a fantastic team to work with! Everyone has extraordinary talents and contributes in different ways to make our project reach its goal in the end. Whoever contributes in whatever way isn't as important as the discoveries made by the team and that are shared with the rest of the scientific community.
What do you do when you're not doing science with NASA? Tell us about your job and your hobbies!
Before my medical retirement, my memberships with the American Nuclear Society (ANS) and the American Chemical Society (ACS) allowed me to perform experiments and demonstrations in public schools for The University of Texas Permian Basin (UTPB).
My wife has a certification to teach all high school science subjects, which has allowed us to work together to enhance the classroom experience for her students. We've used resources generously loaned by the university as well as local ANS and ACS chapters. Then and since we've created many lab assignments and tools for classroom use to support her hands-on approach to teaching.
Our main focus, however, has always been our son. My wife and I regularly met with his teachers and faculty to ensure his educational needs were met, and that they understood we would always be a part of supporting his academic progress.
As far as hobbies, artwork has been a part of my life. I was pleasantly surprised when Dr. Kuchner came across samples of my work and asked if I could depict one of our discoveries for a NASA press release. I was honored to contribute what I could, using data gathered by both our Disk Detective team and, when NASA's Jet Propulsion Laboratory (JPL) asked for an updated image, Simon Murphy's team (who made valuable supplemental discoveries). The JPL artwork also caught the notice of the University of Michigan's Museum of Natural History, which approached us for permission to use it in an exhibit. So I am pleased that what we're doing with Disk Detective is now being used to educate the public about the solar system and planet formation.
What have you discovered or learned as a NASA citizen scientist?
It's been a privilege learning to be part of a great team making discoveries that are questioning what we know about the science of the solar system and planetary formation, such as the newly classified Peter Pan disks. Now that the first phase of Disk Detective is done, I've been asked to continue and help work on the relaunch of the next phase of the project. So, I've been learning how to help build a website that will collect data from millions of citizen scientists worldwide. To participate in this research has been a very humbling experience.
What first sparked your interest in space and science?
I've always wanted to know how the universe works and have always had an interest in science. I loved watching (with my parents) science fiction films and TV shows, the Apollo 17 mission, the Voyager program, and the space shuttle program. All of these made deep impressions on me. My grandparents also nurtured my love for science and gifted me my own subscription to National Geographic. My mother encouraged my love of science fiction in literature, and my father got our family a telescope when I was eight, which I still have to this day and have used with my wife and son during special solar and astronomical events.
What's the biggest challenge you've faced as a NASA citizen scientist?
Family life comes first, and family illnesses and disabilities bring their own challenges. Throughout these trying times, however, the team has been very supportive and patient. Another challenge was disappointment in not finishing my degree, and not feeling worthy among so many professional scientists. It's very reassuring, then, that NASA has appreciated what I can offer as a volunteer in whatever capacity I can give. The team at NASA has never made me feel useless – on the contrary, they have helped me feel valued as a teammate!
What advice would you give to others who might want to volunteer with NASA?
Find a project you feel comfortable working on and have fun. NASA has many opportunities to volunteer through its citizen science and NASA Solve programs. NASA GLOBE alone has several different projects anyone can get involved in by downloading an app on their phone and getting started immediately. There are even classroom opportunities for schools and colleges to get their students involved in doing research, either as a part of the curriculum or as extracurricular activities.
Who inspires you?
My family has always been an inspiration. My father was a skilled engineer who taught me much about his discipline as I grew up. His sister and my mother were artists who traveled the globe, encouraging me to learn as much as I could about the world around me and express myself in it. They sponsored my opportunities at different institutions with mentors who honed the skills my family instilled in me.
My wife's love of physics and chemistry has moved her to find creative ways to make high school studies interesting and exciting for her students. Her lessons were even recorded and sent to Austin, Texas, as part of a proposal for innovative changes to the state's science curriculum.
My son is a genius. When he was 6, he tagged along with me to my university classes and he remembered everything being taught there. On days neither my wife (who was teaching) nor I could pick him up from school, he was in daycare tutoring the daycare workers with their college homework. They were fellow students, so I learned about this the next day when they approached me in class to say how amazing my son was! They are all truly the best inspirations that I could ever have been gifted with.
---
Visit the complete collection of NASA citizen science projects and start contributing today!
Additional Links