Dalia Kirschbaum
Research Scientist
NASA Goddard Space Flight Center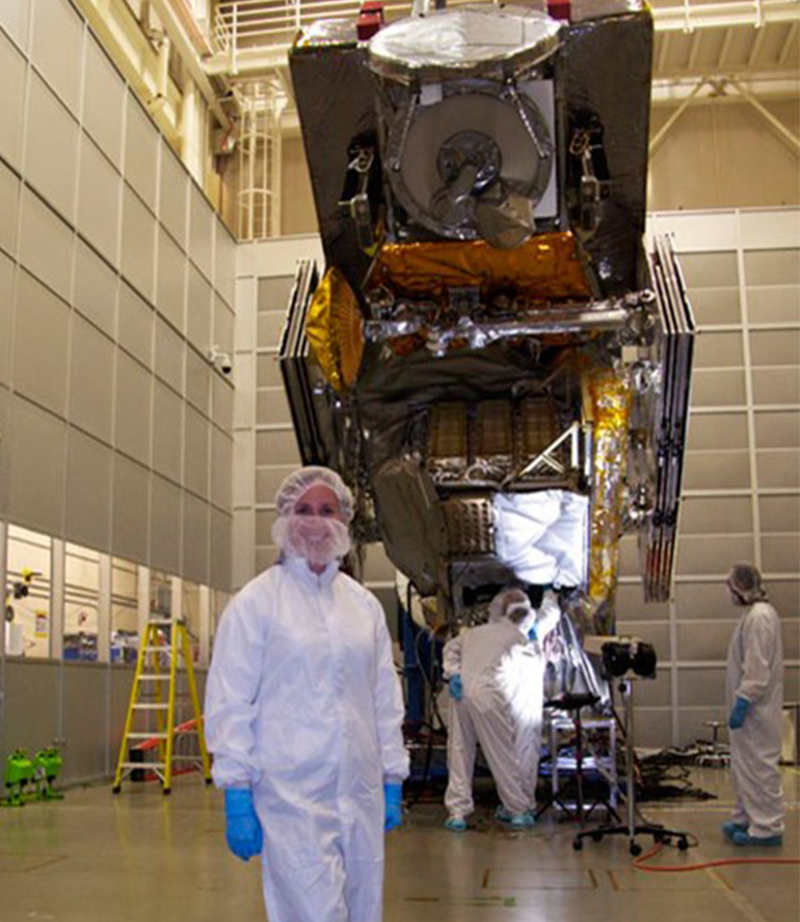 Education
St. Louis Park High School
Princeton University
Geosciences
---
What first sparked your interest in space and science?
I first really became interested in science and the applications of data to real-world problems when I took a course my freshman year of college on environmental issues. I was particularly drawn to the study of natural disasters – not only how they occurred, but how we can use innovative science to better anticipate the consequences of disasters impacting society. From that class and in subsequent ones, I found a home for my love of math, as I connected it with real-world questions about our environment and the extremes within it that we experience around the world.
How did you end up working in the space program?
When I went to graduate school at Columbia University, I applied for an Earth systems fellowship at NASA to support my graduate studies. I was fortunate to be accepted into that program and then continued on to an internship one summer during my doctoral studies at NASA's Goddard Space Flight Center. Following graduation, I was accepted as a NASA postdoctoral program fellow in the hydrology lab at NASA Goddard. I was hired on as a civil servant shortly after finishing my post-doc and I never left!
Internships are key! Take the time to talk with scientists whose careers inspire you, and find out what their path was in the field.
Tell us about your job. What do you do?
I am fortunate that I get to wear multiple hats every day in my job at NASA. I am the leader of a research team that focuses on rainfall-triggered landslides. We build models using NASA Earth observation data, and products from partners, to better estimate where and when landslides might occur around the world, in near real-time.
I also work with some of the missions that are in space and in development at NASA, including the Global Precipitation Measurement (GPM) mission and studies that are looking at the agency's next precipitation, aerosol, and cloud mission. In this role, I get to communicate with the public and other scientists. We also reach out to the communities that are using the data to identify how people are using these products for decision-making.
I also work closely with NASA's Disasters Program to communicate and to bring different Earth observation data and products to bear when there is a disaster. In this respect, the goal is to leverage NASA's data to support the operational community throughout the disaster lifecycle (pre-event preparedness, response, recovery, and building resilience).
What's one piece of advice you would give to others interested in a similar career?
Internships are key! Take the time to talk with scientists whose careers inspire you, and find out what their path was in the field. Seek out opportunities to get your foot in the door to learn about what day-to-day life is like in these types of professions. Finally, be persistent!
What has been your biggest challenge, professional or personal, and how did you overcome it?
I have been fortunate to mostly chart my own path in my research area. This has been challenging, though, because at the beginning there weren't any teams available to advance the landslide work. I frequently went to meetings and conferences by myself, not knowing too many people, and just learned and networked. It takes a lot of guts sometimes to go up to someone who is renowned in their field and introduce yourself, but that is often what it takes to move ahead.
In the last several years, the personal challenge has been balancing family and professional life, but that also builds character because you can't take yourself too seriously, and there are only so many hours in the day. Therefore, not everything will get done!
Who inspires you?
I have been fortunate to have some wonderful female role models at NASA who have demonstrated to me how you can have a family and a successful career. They are leaders in the NASA community and have tremendous scientific street cred, but they are also the nicest people. I often look to them for advice or just a sanity check!
What have been some of your favorite projects to work on?
One of the coolest experiences I have had at NASA is doing a live recording of the GPM launch. I had been working on the mission leadership team since 2010 and was asked to help host live coverage of the launch, which was happening in the middle of the night at Tanegashima Space Center in Japan (which was afternoon on the East Coast). Watching the rocket blast off, holding my breath until the fairings separated, and seeing it enter its orbit was one of the most exciting things I have done. I continue to work with the team on that project, and the satellite constellation continues to provide unprecedented data on rain and snow around the world.
The other exciting thing we've done is develop a citizen science website where people can log in and report landslides in their area or ones they have heard about in the news. It is impossible to get a comprehensive, global picture of where and when landslides are happening, because of a number of other factors. So by encouraging the participation of the community, we can work toward getting a much better idea of how landslides are impacting us and our environment. We have already had some great contributions that have helped fill gaps in our knowledge for some areas, so I encourage anyone who is interested to check out our site and start reporting!
What are some fun facts about yourself?
I was a pole vaulter in college and also loved playing soccer (I still play though I lack the time these days!). I love to spend time with my family, cook when I have the chance, and explore.
What is your favorite space image and why?
One of my favorite images is the Earth at night. I could stare at it for hours.
---
Visit the complete collection of NASA citizen science projects and start contributing today!
Additional Links