Janelle Ivy Wellons
Flight Engineer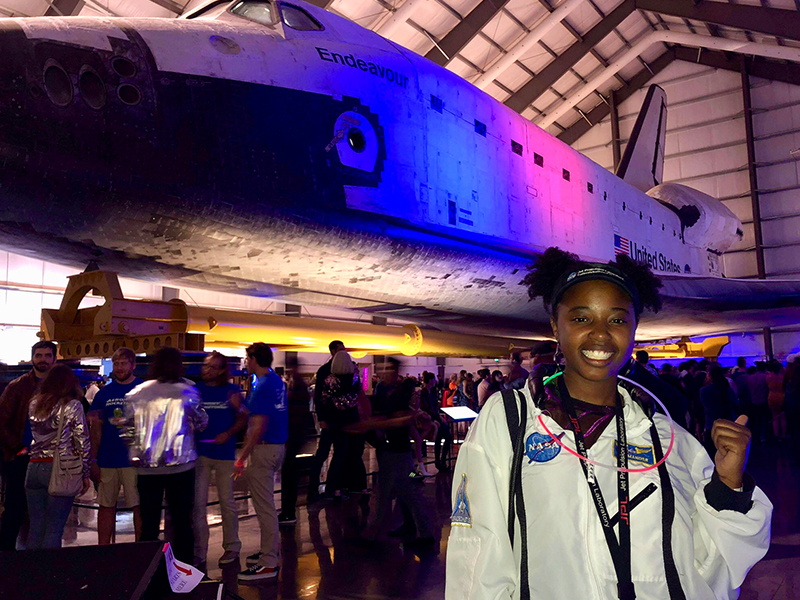 Education
Kingsway Regional High School | Woolwich Township, New Jersey
Massachusetts Institute of Technology (MIT)
Aerospace Engineering
Affiliation
Private Industry
---
Janelle is working at a private aerospace firm after more than five years working on missions for NASA's Jet Propulsion Laboratory.
What first sparked your interest in space and science?
I always had a curiosity about the vastness of our universe, but I didn't know that I wanted to do space until college. Freshman year, I was set on becoming a theoretical mathematician, but I was encouraged to take an intro class for engineering since I was going to an engineering-focused school. I followed that advice and decided to take an introduction to aerospace engineering class the following spring semester. On the first day of class, the professor starts going over the syllabus and describing what we would be learning about in the class. He pulls up an image of an astronaut fixing the Hubble Telescope and casually reveals that he was the astronaut in the photo! My jaw hit the ground! I knew then that I had to become an aerospace engineer and learn everything I could about space.
How did you end up working in the space program?
While studying aerospace engineering, it became apparent to me that NASA's Jet Propulsion Laboratory (JPL) was the place to be if you wanted to do incredible, (literally) out-of-this-world space engineering. So naturally, whenever they sent a representative to recruit at my school, whether for career fairs or information sessions, I went to see them.
Sophomore year, I didn't have much confidence I would be chosen because I had little experience, but I knew that speaking to recruiters and going through the application process would prepare me for the future. As expected, I did not get the internship. Junior year rolled around, and I applied again, hoping they would see my improvements and give me a chance. Still no luck. Senior year came and I was nervous – I wanted to work for JPL, and this was my last chance! I applied and waited to hear back and was ecstatic to learn I would get an interview. This was further than I had ever gotten! That interview led to another on the JPL campus, and an eventual phone call to inform me I had received a job offer. Just goes to show that hard work and a "never give up" attitude can go a long way!
Believe in yourself fully and unconditionally so that when an opportunity presents itself, you never hesitate to take it.
What's one piece of advice you would give to others interested in a similar career?
Believe in yourself fully and unconditionally so that when an opportunity presents itself, you never hesitate to take it. Too many future rocket scientists have denied themselves the chance to enter the field by not having the confidence to apply in the first place. Do not let the fear of rejection hold you back from trying. An opportunity not taken is an opportunity lost.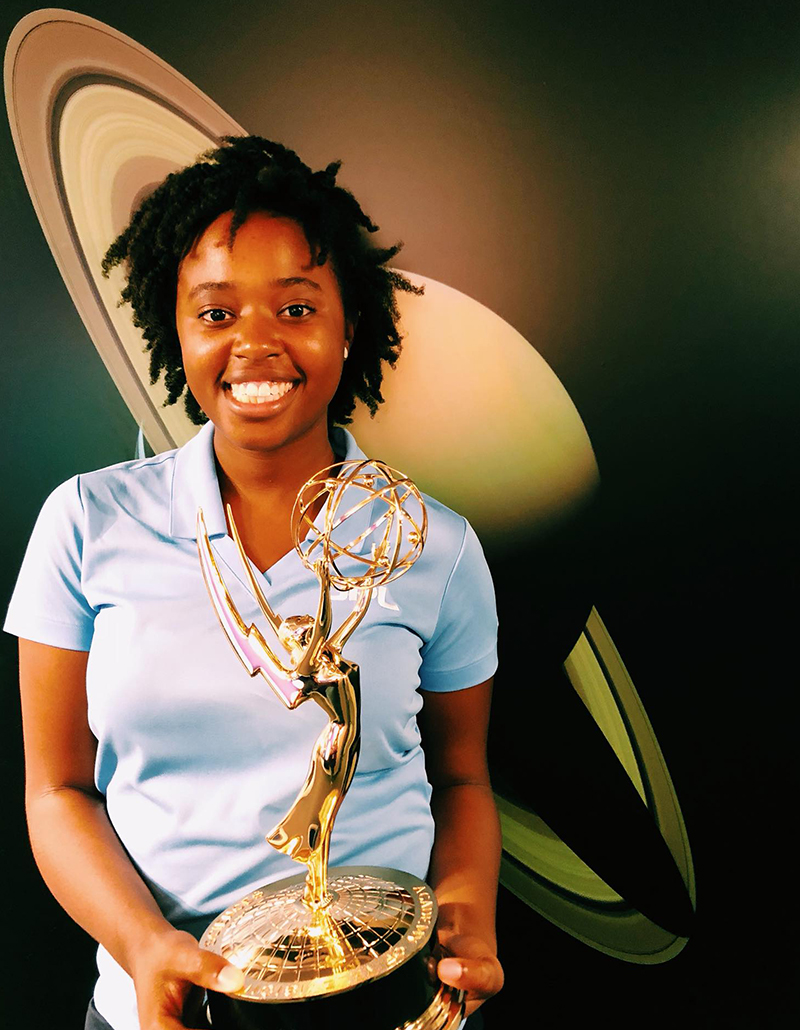 What have been some of your favorite projects to work on?
My favorite project to work on was NASA's Cassini mission. Cassini was a spacecraft that spent about 20 years in space. It launched in 1997 when I was only 3 years old, and by the time I was hired to work at JPL, it was still going. The mission came to an end in 2017 because the spacecraft was out of fuel, and we wanted to protect the pristine moons at Saturn from an uncontrolled spacecraft that could potentially crash into them.
It was an honor to be a part of the flight team for such a monumental event. Seeing how everyone came together as a family to say goodbye to Cassini made me feel emotions that I didn't expect to feel: loss, love, and pride to name a few. For those who worked on it their whole lives, it was clear how important the mission was to them. For people like me who hopped on at the end, it didn't take much for me to see how special Cassini was.
For the Grand Finale, when Cassini burned up in the Saturnian atmosphere and ended its contact with Earth forever, it felt like the world was standing beside us, mourning the loss of an incredible mission. This was largely due to the outreach and social media efforts led by JPL's media relations and public engagement teams – the sharing of Cassini's legacy with people worldwide. It made such an impact that we even won an Emmy, making Cassini the first NASA mission ever to accomplish such a feat.
What are some fun facts about yourself?
Since moving to California, I found myself doing something I never thought I would do — becoming SCUBA certified. It is a whole new, spectacular world swimming 60 feet below the sea, next to beautifully colored fish, coral, and creatures of the deep. Who knows, this hobby could become a useful skill one day if I ever become an astronaut!
What is your favorite space image and why?
This is the image that started it all for me – Astronauts Story Musgrave and Jeffrey Hoffman fixing the Hubble Telescope.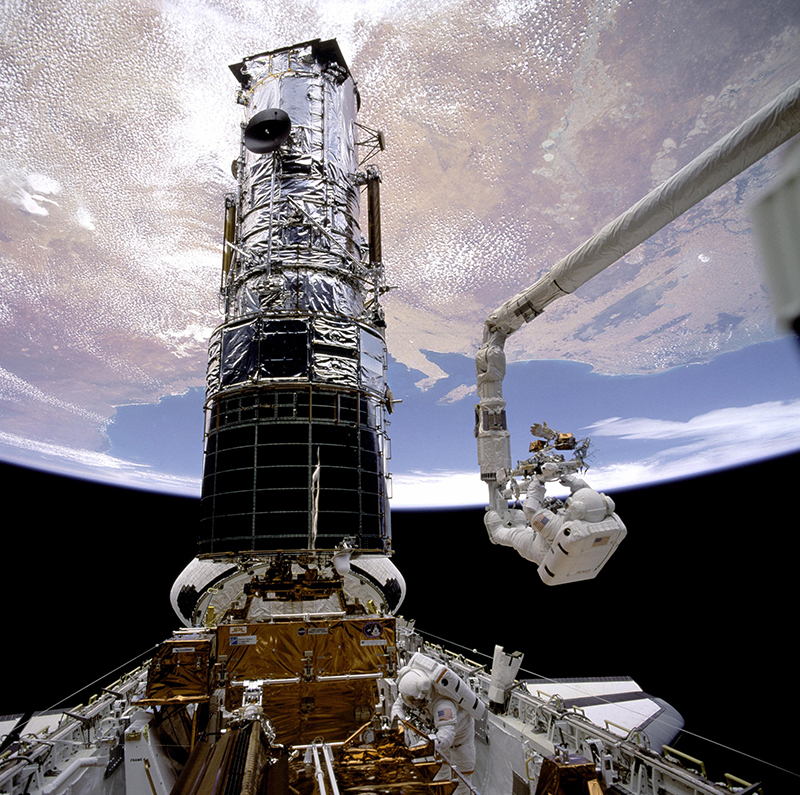 Additional Links