Rania Ghatas
Machine Systems Research Engineer
NASA Langley Research Center
---
Where are you from?
I'm originally from Assiut, Egypt, a southern city along the Nile in Upper Egypt (a.k.a. the South of Egypt). I came to the States with my family when I was two years old and grew up next to Mickey Mouse in Kissimmee, Florida. I moved to Hampton, Virginia in 2012 after excitedly accepting a job offer at NASA's Langley Research Center.
I had a hard time pinpointing just one path - I wanted to pursue everything and anything. But one thing I knew for sure: I wanted to be a person who serves others in a way that makes an everlasting and positive impact.
Describe the first time you made a personal connection with outer space.
It was hard to not fall in love with space growing up on the Space Coast next to Kennedy Space Center. Watching Space Shuttle launches on TV and sometimes seeing a launch in person was wonderful and even magical—especially when hearing the sonic boom when the shuttles re-entered Earth's atmosphere. However, I would say my personal connection with outer space all started when I was about five years old, all thanks to my older brother's love of space and flying. Growing up, I would always watch Star Trek with him (mainly because he had the remote), but I fell in love with the show and with space. Then, when I was about eight years old, we watched the movie Apollo 13 and the allure of working for NASA someday was set into motion.
How did you end up working in the space program?
As a child, I was always very curious and eager to learn new things and explore my surroundings. As the years passed, that curiosity and eagerness never subsided; it only increased with each passing year. As a result, I had a hard time pinpointing just one path—I wanted to pursue everything and anything. But one thing I knew for sure: I wanted to be a person who serves others in a way that makes an everlasting and positive impact. It was the "how" that always got me. During undergrad, I studied everything from pre-med to law, and my childhood dream of working for NASA got lost in the midst of pursuing "everything else." But then I discovered a course on Human Factors Psychology during my last semester of undergraduate studies. While researching graduate degree programs, I found a Master of Science program at Embry-Riddle Aeronautical University (ERAU) that focused on Human Factors and Systems Engineering. There, I was given the opportunity to work on the Unmanned Aircraft Systems (UAS) in the National Airspace System project (NAS) with the FAA through ERAU's Next-Generation Advanced Research Lab. My experience with that project exactly matched an opening at Langley for a Human Factors Researcher to work on NASA's UAS in the NAS project, which I immediately applied for. After completing my education at ERAU in 2011, my dreams of being a NASA researcher and helping make a difference became a reality when I started my NASA career in July of 2012.
What is a Human Factors/Machine Systems Research Engineer?
A Human Factors/machine Systems Research Engineer is someone who applies a set of information or physical and psychological characteristics to the design of devices and systems for human use. Human Factors encompasses a collection of data and principles regarding human characteristics, capabilities and limitations, and applies it to the design of machines, machine systems, work methods, and environments.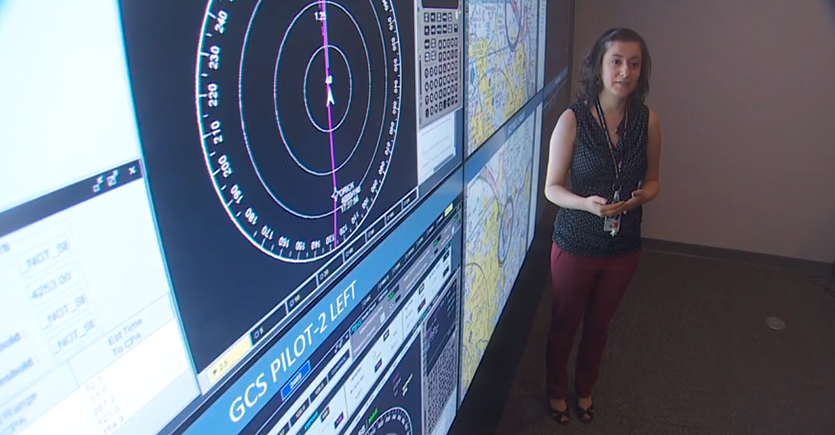 Tell us about a favorite moment so far in your career.
This question is definitely a hard one to answer. I have too many favorite moments in the five years I have worked at Langley to pick from. If I had to pick just one, I would say being selected to represent Langley Research Center at the Society of Women Engineers Conference in 2016 and participating on a panel session about how NASA empowers women in engineering. Sitting in front of the many young engineers who were excited to learn about what it is like to be a woman engineer at NASA was exciting. Meeting other women engineers from across NASA centers and interacting with each of them was an honor. Before the session started and everyone was settling into their seats, I remembered what it was like to be one of those young engineers who was so excited to hear anything about NASA and, at that moment, I was the one sitting on the other side speaking about NASA to the next generation. It was a humbling experience and a moment that I will treasure.
Who inspired you?
My mother and older brother have instilled so much inspiration in me throughout my whole life! Their endless encouragement and support has always been, and continues to be, my motivation and inspiration in both my personal life and my career. They, along with my husband now, inspire me each and every day to be the best I can be and to follow my dreams. I am forever indebted to all their love and support, along with my father who I know is watching over me. They brought me to where I am today and where I aspire to be in the future.
What advice would you give to someone who wants to take the same career path as you?
I would say go for it! I have taken a non-traditional path and it led me to where I am now. I have always enjoyed learning new things and my interests are as wide as the ocean. I wanted to be so many things growing up, from a figure skater to an aerospace engineer, to a medical doctor and lawyer, and everything else in between. My advice would be to study, learn, and experience as much as you can. If you feel like something is not working for you, don't worry about it; find something else that sparks your interest until you find that one spark that you don't want to let go of. Surround yourself with people who love and support you and have your best interests at heart. Your passion and drive can and will take you places that exceed your wildest dreams.
What do you do for fun?
I love traveling and exploring new places and creating memories with family and friends! My favorite part about traveling is immersing myself in the culture of whichever country or state I'm visiting—and especially trying new food. Traveling helps broaden our horizons and allows us to experience the world in its purest form. It gives me great appreciation for God's wonders. In addition to traveling, I also love photography and designing handmade crafts.
If you were talking to a student interested in science and math or engineering, what advice would you give them?
My advice would be to pursue what makes you happy, to follow your dreams, and to never give up. Life is meant to be lived and pursuing a career that will make you happy is an essential part of enjoying life. Be who you are and dream big!