Sophia Sanchez-Maes
Summer Research Student
---
Where are you from?
I'm from Las Cruces, New Mexico. That's where my family is from, and they've been in that area for years. I'm the first generation that has left the area.
Describe the first time you made a personal connection with outer space.
When I was really little -- perhaps kindergarten -- I entered an essay contest called the "My Space Trip Essay Contest." I wrote about my trip around the solar system to all the different planets with my aunt and my cousin. I think there were a couple of not-so-realistic elements of that story, but it started everything.
I also remember in first or second grade, when a friend's father who was an astronomer came to talk to our class for career day. He was asking everyone questions, and I didn't have a lot of answers at the time; I didn't know a ton about astronomy at that point. So instead I kept asking him questions in response to his questions because I wanted to know more. I think that said something about my interest and my passion for the subject. He gave me color printouts of Hubble images, and my mom was so happy that I was so happy that she framed them very nicely and hung them above my bed. They've been there ever since.
I realized I could direct all of these energies and passions into hard problems that really matter and really excite me.
How did you end up working in the space program?
I didn't always want to be a space scientist. I wanted to be a biochemist for a while, or a photographer or a ballet teacher. But finally, mathematics stuck. I wanted to be a theoretical mathematician for most of high school. That was my focus. I did math.
My senior year of high school, there was a university career fair. I typed up these resumes, and my family was stunned and a little shocked when they saw the output because my resumes had four different colors on them. They were purple, orange, blue and black. There were coding style comments in the margins, and instead of bullet points, I used little suns. They were convinced that no one in their right mind was ever going to hire me.
But I went into the career fair and walked around and talked to the different employers, and I came away with quite a few interviews. When it came down to it, it was between JPL and a large tech company. It was very clear to me that JPL is where I need to be.
It was coming into this internship last summer that things shifted for me. JPL is such an incredible place with incredible people using these tools I was already in love with to make amazing, impossible, incredible things happen, and that energy is exciting because it's directed toward something, which isn't as tangible in theoretical mathematics. So when I realized I could direct all of these energies and passions into hard problems that really matter and really excite me, that was huge. So coming into college, I decided this is what I wanted to do, and I'm majoring in astrophysics.
Who inspired you?
I really look up to my grandparents. They both have done so much to keep our crazy family of so many people together, and they have an incredible love for people. That love is what I've tried to emulate in all aspects of my life.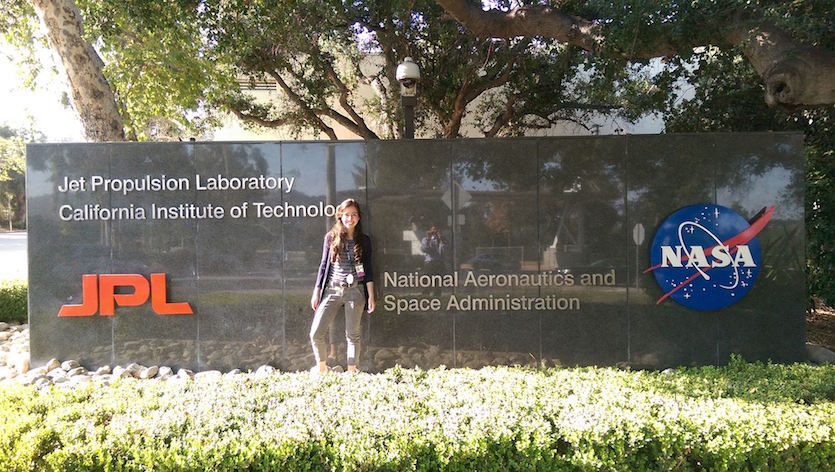 Tell us about a favorite moment so far in your career.
It was July 4, 2016, coming to JPL for the Juno orbit insertion, seeing this incredible mission come to fruition. It will really propel me and drive me in my work and my passion for what goes on here.
What are you looking forward to in your career?
In my lifetime, we are definitely going to develop the ability to detect biosignatures on other planets. I would really love to be involved in the project that eventually does find life elsewhere in the universe. That would be incredible.
What advice would you give someone who wants to take the same career path as you?
Stay strong and go after things. I read about this yesterday: Paris had these "innovation fellows." People were applying who are urban planners and technology developers, and they had one application from an 11-year-old girl who basically said, "I'm trying to build a robot, and I don't know how to do it. It's not working, so I'd love to be one of your innovation fellows so that your mentors can help me get my robot to work because the streets of Paris are sad, and I think my robot will make them happier." It was such an amazing story. They selected her as one of their innovation fellows alongside all these people with Ph.D.s because that passion is so important. I feel like there are so many people who love to give these opportunities. I've certainly benefitted from opportunities that are equally unlikely.
What do you do for fun?
I really love my work. It's so fun it barely feels like work, but outside of the lab, I really love running. It's a lot of fun for me, and it's a way for me to forget about all the little things that run around in my brain. I really enjoy playing music and listening to music, too; I play the violin. And I really enjoy talking to people, reading books and being with my family.