Morgan Cable
Research Scientist
NASA's Jet Propulsion Laboratory (JPL)
Education
Wilkes Honors College of Florida Atlantic University
B.A. Chemistry (summa cum laude)
California Institute of Technology
Ph.D. Inorganic Chemistry
---
A box of rocks might not strike most 13-year-olds as an ideal gift, but for Morgan Cable, it was everything she could hope for – and more.
The daughter of a NASA chemist in Florida grew up watching launches – that's when her school near Cape Canaveral scheduled fire drills – so it was no shock when as a middle-schooler she opted to do a science project on Martian geology.
Striking up an online acquaintance with a working planetary scientist in Arizona, she was surprised but pleased when a large carton of basaltic rocks (think: solidified lava) showed up on her doorstep as raw material for the effort.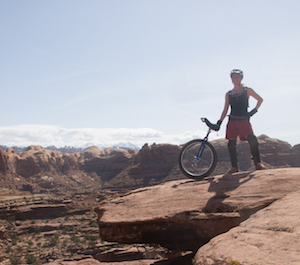 During her third year as a college undergrad in chemistry, Cable put in an application for a summer internship at NASA's Jet Propulsion Laboratory (JPL). This led to graduate work at Caltech, where she earned her Ph.D. in 2010.
Cable's main interest is biomarkers – chemical signatures of life – on worlds like Mars and Saturn's moon Titan. In her JPL lab, she mixes extremely cold liquids and gases to create "mini-Titan lakes." Cable is also a collaborator on the imaging spectrometer that will fly on the JPL-led Europa Clipper mission.
Away from work, she likes to surf (Bolsa Chica and San Onofre are favorite haunts) and enjoys mountain unicycling. She also has run space camps in South Korea.
Cable long had a dream of becoming a NASA astronaut – and says she would still go if selected –but she is getting increasingly settled into a career as a planetary scientist at JPL. With the variety of missions and instruments on the horizon, there are many options.
"It's hard to say no," she says, "when interesting things come up."
---
Where are you from?
Titusville, Florida, right across the water from Kennedy Space Center.
What first sparked your interest in space and science?
Growing up in Cape Canaveral, rocket launches were part of normal everyday life – I didn't realize how lucky I was!. In fact, I remember my elementary school would usually have a fire drill just before each space shuttle launch, so all of the students and teachers would be standing outside and able to see liftoff. Experiencing the excitement and sound of a launch is incredible – you feel the vibrations in your gut, even from miles away. It's impossible not to be influenced by something like that.
"If you are doing something that makes you happy, you will work hard at it and you will be successful."
How did you end up working in the space program?
I've always loved science. My parents constantly encouraged me to ask questions, and they got me involved in science projects at an early age. In 8th grade, I did a science project about life on Mars. I was able to grow a certain type of bacteria in Mars conditions, using just carbon dioxide, water, and volcanic rocks. I've been fascinated with the search for life on other worlds ever since!
I studied chemistry in college at Florida Atlantic University and was lucky enough to do a summer internship at JPL my junior year. I started developing a way to detect life in extreme environments; this work was the start of what would become my Ph.D. thesis when I came back to Pasadena the following year, this time as a graduate student at Caltech. After earning my Ph.D. in inorganic chemistry in 2010, I worked as a NASA Postdoctoral Fellow at JPL designing lab-on-a-chip instruments to search for biomarkers, molecules indicative of life. Now as a research scientist at JPL, I continue to explore biomarker detection strategies using both in situ and remote sensing techniques.
Who inspires you?
My father, also a Ph.D. chemist, has been a huge influence in my life. He taught me to think critically and independently. My triplet siblings, Matt and Casey, have also challenged me to work harder and smarter; they are both the "other kind of doctor" (M.D.) and inspire me to never stop learning. I was lucky enough to have met astronauts like Story Musgrave and Don Pettit, who lead by example and help me remember that the only real limits are those I impose on myself.
What is a research scientist?
A research scientist is someone who gets to ask questions like, "Is there life on Enceladus?" and then figures out how to answer those questions. This can involve doing laboratory experiments, going on expeditions in the field, or designing instruments for spacecraft. The best part of my job isn't even finding the answers to my questions – it's finding more questions!
Tell us about a favorite moment so far in your career.
My favorite experience so far has been camping at the top of Mount Kilimanjaro, the "roof of Africa," for four nights at 19,341 feet (5,895 meters). I was part of a five-person team on a field expedition to sample the Northern Ice Field, a glacier at the summit. Africa is incredible, and the views were spectacular! However, your brain doesn't exactly "fire on all cylinders" when you're in an oxygen-deprived environment at those altitudes. We completely forgot to do one experiment, even though we had all of our procedures written down! Luckily it was a minor one, and we were able to get lots of fascinating data about life trapped in the ice while we were there.
What do you do for fun?
I do a rather unusual sport for fun – mountain unicycling. I love it because it's incredibly challenging, requiring strength, stamina, and focus. I also enjoy surfing, caving, flying, and teaching a space camp in South Korea each summer.
What advice would you give a student interested in science, math, or engineering?
Pursue your passion, wherever it takes you. Most of my colleagues at JPL did not take a direct path here; instead, they just kept doing things they thought were interesting. And exploring other worlds is very interesting! If you are doing something that makes you happy, you will work hard at it and you will be successful.