News
| May 7, 2007
Latest Group of Solar System Ambassadors Ready for Liftoff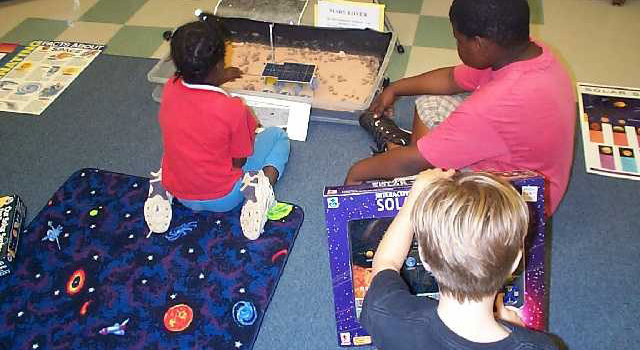 The newest bunch of space enthusiasts in NASA's Solar System Ambassadors Program is hard at work, planning events to educate various communities on their one true passion: space.
The program, which is marking its 10-year anniversary, includes 494 ambassadors whose mission is to convey the wonders of space to the public.
"Solar System Ambassadors come from all walks of life," said Kay Ferrari, who manages the program at NASA's Jet Propulsion Laboratory in Pasadena, Calif. "They come from all kinds of backgrounds and from all over the country. The qualities these volunteers share are a love of space exploration and a desire to share that love with people in their communities."
Ambassadors come from all 50 states, plus Washington, D.C., and Puerto Rico. The program is one of the longest-running NASA volunteer outreach projects. It includes volunteers from various career fields and occupations, including teachers, computer software writers, students, firefighters and soldiers.
Each ambassador receives online training from JPL, and educational materials supplied by various space missions, such as Dawn, which is poised to become the first spacecraft to orbit two different bodies after leaving Earth. Dawn is set to launch in June.
Ambassador Robert Viens, who teaches geology and environmental studies at Bellevue Community College in Washington, says his love of science stems from growing up watching JPL's Pioneer, Mariner and Voyager missions.
"For a long-time space enthusiast, there is something very exciting about being a part of NASA and JPL," Viens said. "Not only has it opened the door to new resources and information, but it makes me feel like I am now more than just an observer."
Viens recently gave a presentation called "A Rock Hound's Guide to the Solar System" to a group of rock and mineral enthusiasts. Next, he hopes to do presentations on the search for life in our solar system, and a 3-D trip to Mars.
Another Solar System Ambassador whose love of space started young is sixth-grade world geography teacher Patricia Tierney of Marshfield, Mo. "When John Glenn circled Earth for the first time, I was the only little girl in the corner with all the boys listening to the radio," she said. "Having a vivid imagination, I found that space exploration touched something in me that was both creative and exciting."
During Tierney's recent spring break, she traveled two-and-a-half hours to give her ambassador presentation, including shuttle simulations, for classes in Iron County, Mo.
"People seem to really want to know more about the space program but for some reason don't reach out on their own," she said. "I'm hoping to fill that gap."
Ambassador David Delmonte, a retired computer system developer from Washington, D.C., had always been fascinated by NASA's Apollo missions, but couldn't understand why more people didn't share the same love and enthusiasm. Delmonte applied to be an ambassador, hoping he would have a chance to make a difference. That chance arrived when he was accepted into the program and was asked to be a judge at an elementary school science fair.
"The look in young children's eyes when you tell them their science project is fascinating, and to listen to their creativity is really personally rewarding," Delmonte said. "It was the essence of what I want to achieve as a Solar System Ambassador."
For more information on JPL's Solar System Ambassador Program, visit
http://www2.jpl.nasa.gov/ambassador/index.html
, or contact Kay Ferrari at
ambassadors@jpl.nasa.gov
or 818-354-7581. A calendar of events hosted by ambassadors is available at
http://www2.jpl.nasa.gov/ambassador/events.html
.
JPL is managed for NASA by the California Institute of Technology in Pasadena, Calif.