News
| September 5, 2012
Dawn has Departed the Giant Asteroid Vesta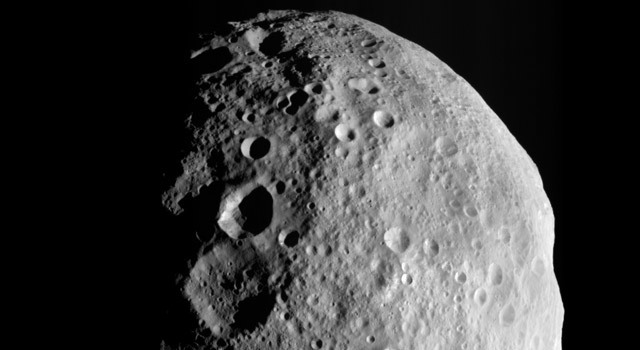 Dawn Mission Status Report
PASADENA, Calif. -- Mission controllers received confirmation today that NASA's Dawn spacecraft has escaped from the gentle gravitational grip of the giant asteroid Vesta. Dawn is now officially on its way to its second destination, the dwarf planet Ceres.
Dawn departed from Vesta at about 11:26 p.m. PDT on Sept. 4 (2:26 a.m. EDT on Sept. 5). Communications from the spacecraft via NASA's Deep Space Network confirmed the departure and that the spacecraft is now traveling toward Ceres.
"As we respectfully say goodbye to Vesta and reflect on the amazing discoveries over the past year, we eagerly look forward to the next phase of our adventure at Ceres, where even more exciting discoveries await," said Robert Mase, Dawn project manager, based at NASA's Jet Propulsion Laboratory, Pasadena, Calif.
Launched on Sept. 27, 2007, Dawn slipped into orbit around Vesta on July 15, 2011 PDT (July 16 EDT). Over the past year, Dawn has comprehensively mapped this previously uncharted world, revealing an exotic and diverse planetary building block. The findings are helping scientists unlock some of the secrets of how the solar system, including our own Earth, was formed.

A web video celebrating Dawn's "greatest hits" at Vesta is available at http://www.nasa.gov/multimedia/videogallery/index.html?media_id=151669301 . Two of Dawn's last looks at Vesta are also now available, revealing the creeping dawn over the north pole.

Dawn spiraled away from Vesta as gently as it arrived. It is expected to pull into its next port of call, Ceres, in early 2015.

Dawn's mission is managed by JPL for NASA's Science Mission Directorate in Washington. Dawn is a project of the directorate's Discovery Program, managed by NASA's Marshall Space Flight Center in Huntsville, Ala. UCLA is responsible for overall Dawn mission science. Orbital Sciences Corp. in Dulles, Va., designed and built the spacecraft. The German Aerospace Center, the Max Planck Institute for Solar System Research, the Italian Space Agency and the Italian National Astrophysical Institute are international partners on the mission team. The California Institute of Technology in Pasadena manages JPL for NASA.

For more information about Dawn, visit: http://www.nasa.gov/dawn and http://dawn.jpl.nasa.gov .