Feature
| April 10, 2018
Meet a Citizen Scientist: Sylvia Beer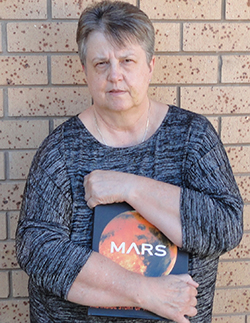 Location
Wodonga, Australia
What do you study?
Through "Planet Four: Ridges" on "Zooniverse," I look for polygonal ridges on Mars. When I find them I use Google Mars to see where they are on the planet.
On "Planet Four," we've got a great environment. We all chat amongst ourselves. We joke. If we see something that's interesting, you point it out -- like, is there a polygonal ridge or isn't there? But we look beyond the pictures sometimes. Sometimes I'll see something I haven't seen before. I think I know Mars better than Earth, just by looking at the different things.
I have always done more than one project on the "Zooniverse" platform. I started with "Bar Lengths," which I finished, and then I went on to "Galaxy Zoo" and "Planet Four: Terrains." I have also worked on an environmental project and an animal project. I am still working on "Galaxy Zoo," but not as much as "Planet Four: Ridges."
Why do you do citizen science?
I got diagnosed with Parkinson's disease in 2011. I wasn't well off for two years, and I needed something to stimulate my brain. I hadn't done anything with astronomy in a long time. The Wodonga Council had "Zooniverse" listed on their website -- it was listed under things to do. I went and registered, and went to Mars and many a galaxy.
I love to fossick (search) for gemstones. It's the same feeling. It's hard to explain. I've always loved rocks and digging. Geology would come second to astronomy. The wonderment and trying to understand how everything goes together and works -- I just love it.
I look at it as learning new things, and adding to whatever I know. I basically believe that all things have a pattern and everything is mathematical.
What's your day job?
It's a bizarre life -- things come to me and I do them! I worked in a bakery, then I went on to manage an office, then I went on to a metal company and did accounts payable, and then I went on to being a doctor's office manager. The last job I had I was as a research assistant in child psychiatry.
With Parkinson's, I couldn't work anymore. I was in a brace, then I started medicine and it helped a little bit. I have a cane and I have a walker. I can't go as far as I want to. But you take each day as it comes, and whatever comes, you deal with.
I like doing art -- that's my other thing. And running a house. I design geometric patterns for tapestries. I make them in really bright colors.
Favorite contribution you've made?
All contributions matter, small or large. Even if someone comes and only does 20 classifications or so -- it all adds up. My favorite is just being able to learn something new and to pass it on when a newcomer asks a question -- to help find answers to questions and to help out with the info needed to find them. It might just be a feeling something in this photo isn't right, or you look and finally you see a hypothesis or theory come to life. That is the magic in doing this. People say, "Oh, you only look at photos." No we don't -- some of us think outside the box, and we find answers at times.