News
| March 14, 2018
NASA Mars Mission Tours California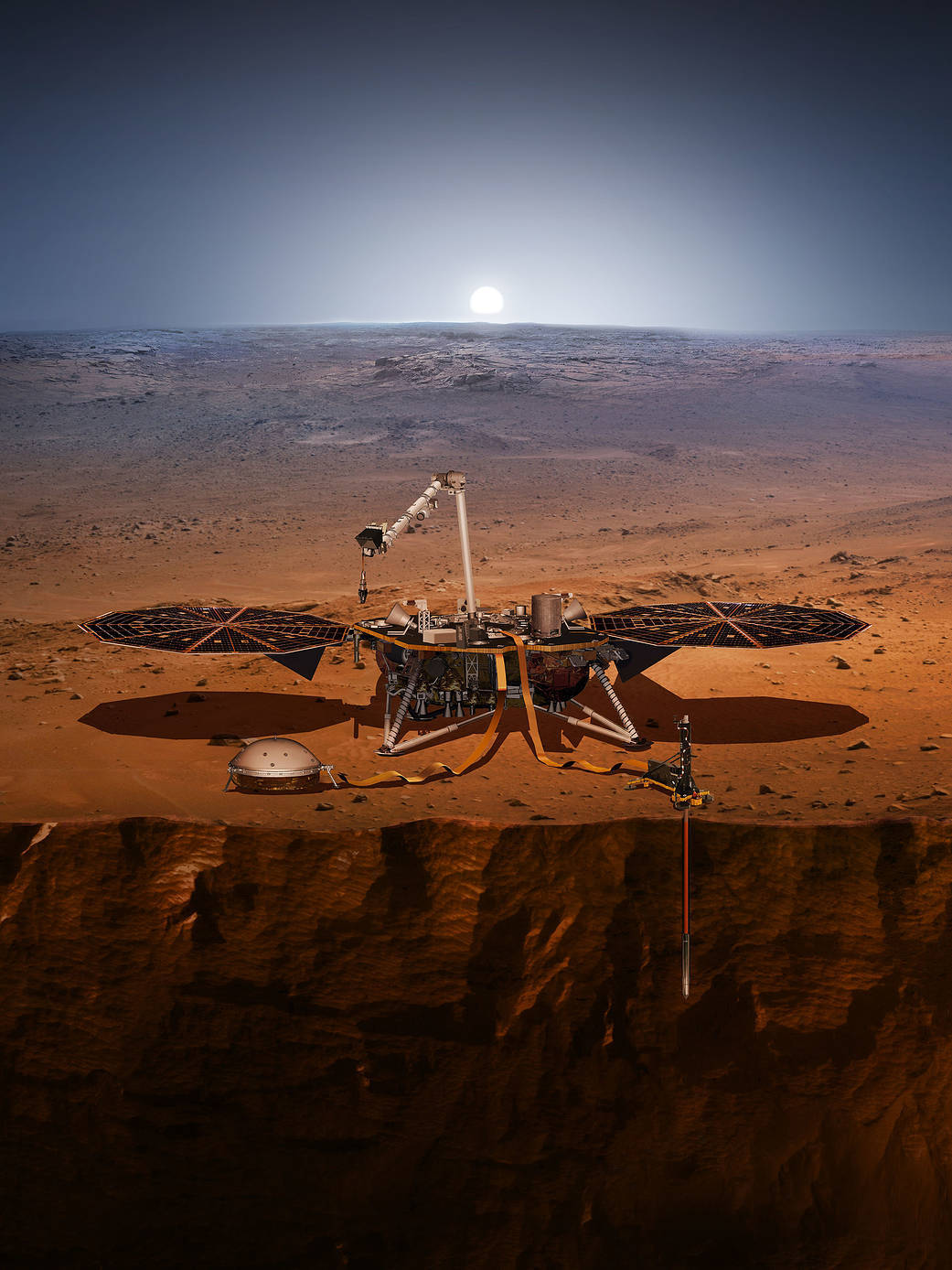 Scientists and engineers with NASA's next mission to Mars will be touring California cities starting this month.
NASA's InSight mission will be the first interplanetary launch from the West Coast. In preparation for its May launch, the Mars InSight Roadshow is stopping at cities along the earthquake-prone California coast to explain how the robotic lander will study Mars' deep interior using seismology and other geophysical measurements.
The Roadshow brings family-friendly science activities, exhibits and public talks to communities throughout California, making comparisons between earthquakes and the marsquakes that InSight will try to detect. The Roadshow will also partner with local and national organizations along the way, promoting planetary science and showing the benefits of NASA earthquake data gathered by Earth-observing satellites. All the museums are members of the NASA Museum Alliance.
InSight's launch window opens May 5 at Vandenberg Air Force Base near Lompoc, northwest of Santa Barbara. InSight stands for Interior Exploration using Seismic Investigations, Geodesy and Heat Transport. It will be the first mission to study the deep interior of Mars, using an ultra-sensitive seismometer, a heat-flow probe and other instruments. InSight is led by NASA's Jet Propulsion Laboratory in Pasadena, California.
What to Expect:
"Make Your Own Marsquake" demo, in which members of the public jump and see seismometer readings on a screen
Interviews with NASA scientists and engineers
Colorful backdrops and selfie stations
Models of the InSight spacecraft
Mars globe "cutaways" showing the interior of Mars
Virtual reality headsets used to see panoramas of Mars
Who to Expect:
Members of InSight's mission and science teams
JPL's Mars public engagement team
NASA Solar System Ambassadors
Tour Dates:
The following dates are confirmed. Additional dates, including ones in Southern California, will be added.
March 30-31, Redding, CA
Turtle Bay Exploration Park, Exhibit
March 30, Redding, CA
Shasta Union High School District's David Marr Theater, Public Talk
April 13-15, Sacramento, CA
Powerhouse Science Center, Exhibit
April 18-22, San Francisco, CA (Media Day on April 18)
Exploratorium, Exhibits and Public Talks
April 27-29, San Luis Obispo, CA
San Luis Obispo Children's Museum, Exhibit
April 28, San Luis Obispo, CA
Cal Poly San Luis Obispo, Public Talk
May 2-3, Santa Maria, CA
Santa Maria Valley Discovery Museum, Exhibit
May 2, Lompoc, CA
Dick DeWees Community & Senior Center, Exhibit
May 3, Lompoc, CA
Lompoc Public Library, Public Talk
May 4, Santa Maria, CA
Allan Hancock College, Exhibit and Public Talk
May 19, Santa Barbara, CA
Santa Barbara Museum of Natural History, Exhibit
And more to come! Find future dates and details at: