As 2021 began, we eagerly awaited the Perseverance rover's arrival at Jezero Crater on Mars. The early part of the year was all about the Red Planet – with a successful rover landing and the first-ever helicopter flight on another world.
As the year progressed, our asteroid missions came into the spotlight. OSIRIS-REx started its journey back to Earth with precious cargo, and two new asteroid missions – Lucy and DART – launched to the skies.
Here's the 2021 round-up of NASA planetary science, highlighting the year's most spectacular images, the most ground-breaking discoveries, and the most incredible mission milestones.
February 18, 2021: Touchdown! The Perseverance Rover Lands on Mars
March 18, 2021: Hubble Sees Changing Seasons on Saturn
April 19, 2021: Ingenuity's First Flight
​
April 26, 2021: Image of Landslide in Klute Crater
Our Lunar Reconnaissance Orbiter has been at the Moon for over 12 years now and continues to capture incredible images of our natural satellite. In this image from the Narrow Angle Camera, the western wall of Klute crater on the far side of the Moon is slumped towards the crater floor, likely as a result of a nearby moonquake or surface impact event. Images like these demonstrate that the Moon is more geologically dynamic than we previously thought.
May 10, 2021: OSIRIS-REx Departs Bennu
June 2, 2021: Venus Mission Selections
June 7, 2021: Return to Ganymede
August 11, 2021: OSIRIS-REx Provides Insight into Asteroid Bennu's Future Orbit
September 1, 2021: Perseverance Collects a Sample
September 15, 2021: NASA Confirms Thousands of Ancient, Martian Volcanic Eruptions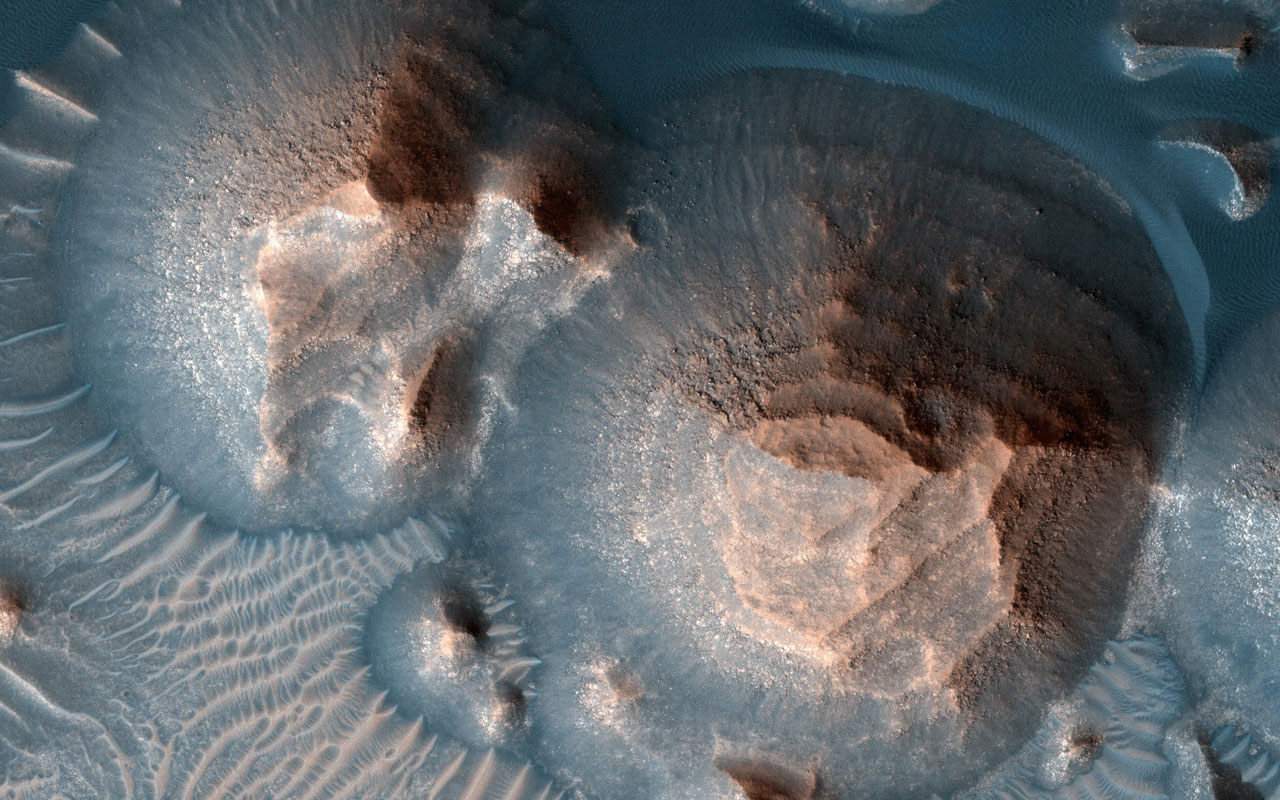 October 16, 2021: Lucy Mission Launches to the Trojan Asteroids
November 24, 2021: The First Planetary Defense Mission, DART, Launches
December 25, 2021: Webb Space Telescope Launch
NASA's James Webb Space Telescope launched at 7:20 a.m. EST Saturday on an Ariane 5 rocket from Europe's Spaceport in French Guiana, South America.
A joint effort with ESA (European Space Agency) and the Canadian Space Agency, the Webb observatory is NASA's revolutionary flagship mission to seek the light from the first galaxies in the early universe and to explore our own solar system, as well as planets orbiting other stars, called exoplanets.
"The James Webb Space Telescope represents the ambition that NASA and our partners maintain to propel us forward into the future," said NASA Administrator Bill Nelson. "The promise of Webb is not what we know we will discover; it's what we don't yet understand or can't yet fathom about our universe. I can't wait to see what it uncovers!"
Ground teams began receiving telemetry data from Webb about five minutes after launch. The Arianespace Ariane 5 rocket performed as expected, separating from the observatory 27 minutes into the flight. The observatory was released at an altitude of approximately 870 miles (1,400 kilometers). Approximately 30 minutes after launch, Webb unfolded its solar array, and mission managers confirmed that the solar array was providing power to the observatory.