Introduction
This page showcases our resources for those interested in learning more about Mars. It includes activities that can be done at home as well as videos, animations, stories, and articles.
Highlights
Highlights
Videos & Animations
Videos & Animations
Activities
Activities
3D Models
3D Models
Stories
Stories
1. Perseverance Rover Mission to Mars
NASA's Mars 2020 Perseverance rover landed on Mars on Feb. 18, 2021. Its main job is to search for signs of ancient life and collect samples of rock and regolith (broken rock and soil) for a possible return to Earth. On Sept. 6, 2021, Perseverance completed the collection of the first sample of Martian rock, a core from Jezero Crater slightly thicker than a pencil. The samples that Perseverance has been collecting have enabled the rover to make some surprising discoveries.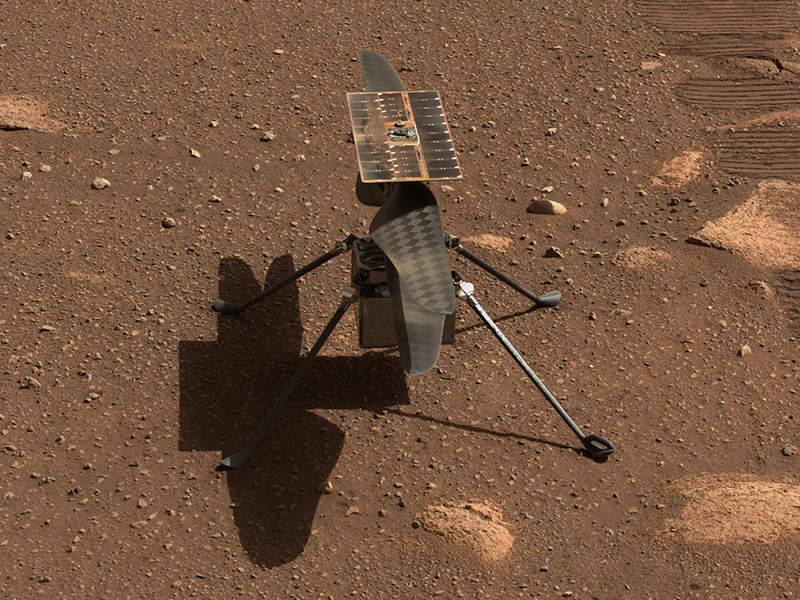 NASA's Ingenuity Mars Helicopter, a technology demonstration, also hitched a ride on the rover. Ingenuity successfully made history's first attempt at powered flight on another planet on April 19, 2021. On its 17th flight on December 5, 2021, Ingenuity pushed its total flight time past the 30-minute mark, reaching an airborne milestone the rotorcraft's team never considered achievable.
You can make your own paper Mars helicopter with this activity.
For the latest news and events regarding NASA's Mars 2020 Perseverance rover, see here.
Articles
Image Highlights
Enchanted View of Jezero Rocks
2. Volcanoes on Mars
Evidence abounds that volcanoes dot the solar system. Mars is one place where these phenomena exist, and the planet boasts the solar system's largest (though, now, likely inactive) volcanoes. Olympus Mons on Mars is the tallest volcano in our solar system and measures 69,000 ft (21.1 km) high. In comparison, Mauna Kea on Earth rises roughly 13,800 ft (4.2 km) above sea level (this volcano also extends about 19,700 ft or 6 km below sea level).
Early on, Mars had really active volcanoes which were fed by hot, rising blobs of rock from deep inside the planet. But Mars doesn't have tectonic plates that move over hotspots, like in Hawaii. So, instead of getting a chain of volcanoes, you could keep building one huge one, and, with the lower gravity on Mars (38% that of Earth), that magma could be pushed to great heights. This is how Mars ended up with such enormous volcanoes.
Articles
Scientists found evidence that a region of northern Mars called Arabia Terra experienced thousands of "super eruptions," the biggest volcanic eruptions known, over a 500-million-year period about 4 billion years ago.

Some places on Earth are so extreme that NASA scientists use them as stand-ins to study harsh environments on other worlds. These locations are called planetary analogs because they are similar, or analogous, to Earth's Moon, Mars, asteroids – and even exoplanets – planets that orbit other stars.

Volcanoes expose the pulse of many planets and moons, offering clues to how these bodies evolved from chemical soups to the complex systems of gases and rocks we see today. Unearthing these clues is what motivates planetary scientists to venture to such inhospitable places on Earth as smoldering lava fields and glacier-covered volcanoes.
Other Resources
Other Resources