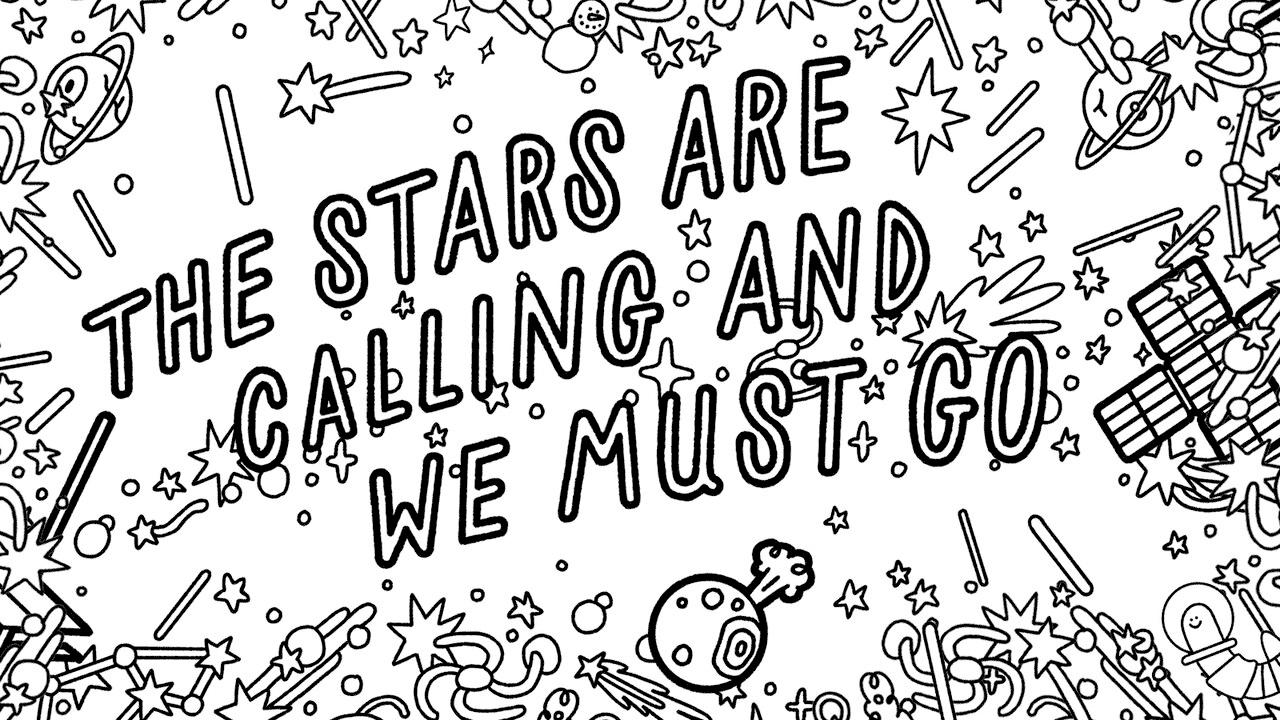 All of NASA's science missions are driven by powerful questions to help us better understand our planet, our solar system, and beyond. What vibrant colors will you bring to these scenes of exploration?
Post your colored universe on social media with #ColorWithNASA and tag @NASASolarSystem for your chance to have your artwork featured on the Solar System Exploration social media accounts and this page!
Week 4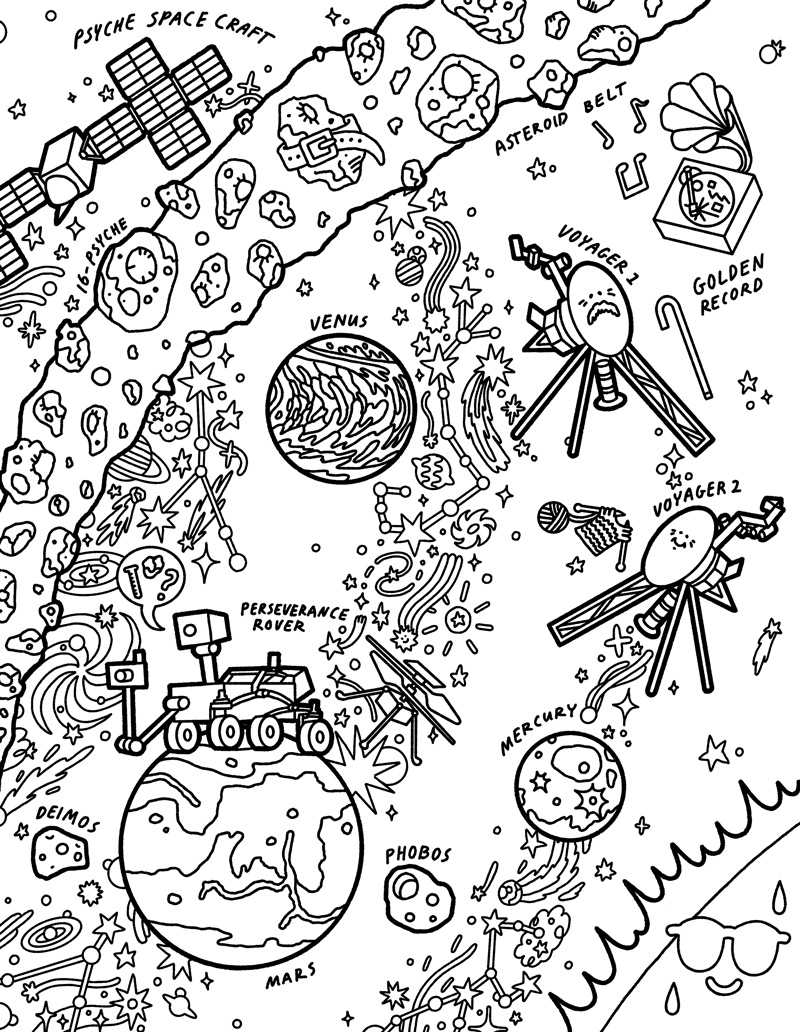 Here are a few NASA highlights featured in this coloring page:
Currently in route to the Red Planet, NASA's Perseverance rover is expected to land on Mars on February 18, 2021. The rover will seek signs of ancient life and collect rock and soil samples for possible return to Earth by a future mission. Riding along with Perseverance is the Mars Helicopter Ingenuity, a technology demonstration to test powered flight on another world for the first time.
NASA's Voyager 1 and 2 are currently exploring interstellar space, where no spacecraft from Earth has flown before. The Voyagers' science goals were to conduct closeup studies of Jupiter and Saturn, Saturn's rings, and the larger moons of the two planets. Voyager 2 then flew past the planets Uranus and Neptune, too! The twin spacecraft journeyed beyond the neighborhood of the outer planets until, in 2012 (Voyager 1) and 2018 (Voyager 2), they entered interstellar space, meaning they exited the protective bubble of particles and magnetic fields created by the Sun called the heliosphere. A unique kind of time capsule, called the Golden Record, is attached to each spacecraft, with special symbols and messages intended to communicate a story of our world.

Asteroids are remnants left over from the early formation of our solar system about 4.6 billion years ago. They are mostly made of rock, metal, or a combination of both. Scientists believe that the asteroid 16 Psyche – a giant metal-rich asteroid, that orbits the Sun about three times farther away than Earth – could reveal new information about how planets form. Launching in August 2022, NASA's Psyche spacecraft will be the first mission to investigate a world likely made largely of metal, rather than rock or ice.

Use our Eyes on the Solar System online interactive to explore NASA spacecraft and planets in our solar system using real mission data!
What else can you uncover in the picture? Here are a few hints to help you out!
Where you can find the hit tunes of our universe
A bot with questions about life
How an asteroid holds up its pants
A spacecraft headed for a metal world
Week 3
Here are a few NASA highlights featured in this coloring page:
What else can you uncover in the picture? Here are a few hints to help you out!
A little planet with a big heart
A shortcut through space
A couple of ice giants
The universe put some big, bright rings on it
Week 2
Here are a few NASA highlights featured in this coloring page:
Fifth in line from the Sun, Jupiter is, by far, the largest planet in the solar system – more than twice as massive as all the other planets combined. Jupiter is a type of planet known as a gas giant. Its features include clouds of ammonia and water that form stripes and swirls, and the Great Red Spot, a gigantic storm about twice the size of Earth that gives the planet its iconic look.

Scientists have discovered 79 (and counting)

moons

orbiting Jupiter

, the most moons of any planet in our solar system. Of those many moons, the four largest –

Io

,

Europa

,

Ganymede

,

and

Callisto

–

receive the most intense scientific interest. They are known as the Galilean satellites, for Italian astronomer Galileo Galilei, who first observed them in 1610.

NASA's Juno spacecraft

is the first mission to give scientists a detailed, up-close look at Jupiter. The Juno spacecraft has made dozens of close flybys, giving scientists insight into how Jupiter formed and evolved, and providing details of its gravitational and magnetic fields, and its atmosphere.

Supermassive

black holes

are enormous, dense objects buried at the hearts of galaxies. A black hole's gravity is so powerful that it can pull in nearby material – dust and gas, and even stars! In fact, their gravity is so strong that not even light can escape them. Have you ever thought about what it's like to visit a black hole? While we wouldn't recommend it, here's

NASA's Guide to Black Hole Safety

.
What else can you uncover in the picture? Here are a few hints to help you out!
The only moon with its own magnetic field?

Some "stellar" twins made of stars

The greatest spot in the solar system

A moon where you'd see lots of volcanoes erupting
Week 1
Here are a few NASA highlights featured in this image:
Space can sometimes feel far away from us, so we use science to bring the universe a little bit closer. For example, using telescopes, we can observe space from Earth. And to bring scientific information and pictures back to Earth from space, spacecraft use the Deep Space Network, or DSN. The DSN is a collection of big radio antennas in different parts of the world.
NASA has 10 main locations, plus its Headquarters in Washington D.C. that work together to help space seem closer to home.
A U.S.-European collaboration launching in November 2020, the Sentinel-6 Michael Freilich spacecraft is set to track sea level and will provide atmospheric data to support weather forecasting and climate models. Join the virtual NASA Social for launch here
What else can you uncover in the picture? Here are a few hints to help you out!
How we talk with distant spacecraft
Where America's first robotic space "Explorer" came from
A way to look at the stars up close from Earth
This "sentinel" will monitor the height of our oceans