Introduction
This page showcases our resources for those interested in learning more about Venus. It includes activities that can be done at home as well as videos, animations, stories, and articles.
Highlights
Highlights
Videos & Animations
Videos & Animations
Inspired by the Renaissance vision of Leonardo da Vinci, learn how NASA is presently preparing its scientific return to Venus' atmosphere and surface with a mission known as the "Deep Atmosphere of Venus Investigation of Noble gases, Chemistry and Imaging" (DAVINCI)

Meet DAVINCI, as Principal Investigator Jim Garvin gives an overview of the mission and the probe's landing site – Alpha Regio.

Tune in to this discussion on the DAVINCI mission to Venus, courtesy of NASA Goddard's Office of Communications' Engage series.

Venus is a hot, hellish, unforgiving world. Its toxic atmosphere and sweltering surface make it a challenging place to study, but NASA is sending two bold new missions to this inferno-like world: DAVINCI and VERITAS.

NASA's Parker Solar Probe took its first visible light images of the surface of Venus from space during its 2020 and 2021 flybys of the planet. Discover more in this video.

Discover ten mysteries of our sister planet, Venus.

An overview of the DAVINCI mission through the eyes of the descent probe.

Explore these animations which show the evolution of Venus's landscape over time.

Venus has an "electric wind" strong enough to remove the components of water from its upper atmosphere. This action may have played a significant role in stripping Venus of its oceans. Learn how an "electric wind" can strip Earth-like planets of oceans and atmospheres in this video.

By studying Venus, scientists can learn a great deal about exoplanets, as well as the past, present, and possible future of Earth.

A look at how future missions to Venus will use modern sensors and spacecraft that could establish the planet as a window on the universe.

Venus, our planetary neighbor, is a hot, hellish unforgiving world. Learn about the two bold new missions (DAVINCI and VERITAS) that NASA has selected to study this inferno-like planet.

Learn why NASA studies volcanoes and how volcanoes on Earth can teach us about volcanoes on other worlds in our solar system. Discover how to make your own volcano erupt at home as well!

Volcanoes play a role in how Earth looks today. Thanks to a variety of NASA missions, we know more about volcanoes in our solar system, and by studying them, we can learn about the interior properties of planets and moons.

Discover how much we have yet to learn about Venus, our "sister" planet, and about what this planet might tell us about Earth's past.

Discover why Venus is sometimes called Earth's evil twin in this video.
Activities
Activities
3D Models
Stories
Stories
Ancient Sister of Earth
Venus, our nearby "sister" planet, beckons today as a compelling target for exploration that may connect the objects in our own solar system to those discovered around nearby stars (called exoplanets). Building, but incomplete, evidence suggests that Venus may have harbored oceans as recently as 1 billion years ago, yet today is uninhabitable. Thus, Venus may offer glimpses of Earth's distant past, while holding insights into our own planet's environmental destiny.
Venus and its massive, chemically complex atmosphere, extremely hot surface (860°F or 460°C), and mysterious mountainous regions entice us to return to this planet to unravel its untold secrets. DAVINCI and VERITAS, NASA's future missions to Venus, will connect Earth and Mars to our sister world and arm scientists with perspectives needed to understand how ocean-bearing planets evolve, potentially fostering life. And current missions, such as NASA's Parker Solar Probe, are adding to our collection of Venus data as well.
Because Venus is hot enough to melt lead (instead of mud puddles, Venus would have lead puddles), and its atmospheric pressure can crush a nuclear-powered submarine, planning for a future mission to this planet has its challenges. Scientists and engineers have to think carefully about which types of space vehicles to send (airborne versus rover versus orbiter), as each type needs to fulfill specific requirements if the probe is to survive.
Articles
Research using archival NASA data shows that Venus may be losing heat from geologic activity in regions called coronae, possibly like early tectonic activity on Earth.
Onward to Venus!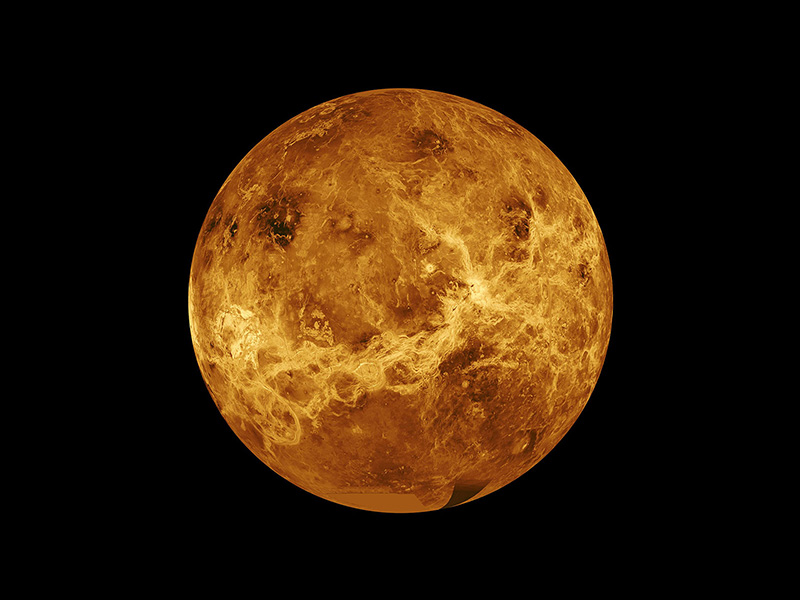 On June 2, 2021, NASA selected two new missions to explore Venus: DAVINCI (Deep Atmosphere Venus Investigation of Noble-gases, Chemistry and Imaging) and VERITAS (Venus Emissivity, Radio Science, InSAR, Topography, and Spectroscopy). Part of NASA's Discovery Program, these missions aim to understand how Venus became an inferno-like world when it has so many other characteristics similar to ours – and may have been the first habitable world in the solar system, complete with an ocean and Earth-like climate.
DAVINCI will measure the composition of Venus' atmosphere to understand how it formed and evolved, as well as determine whether the planet ever had an ocean. VERITAS will map Venus' surface to determine the planet's geologic history and understand why it developed so differently than Earth. These complementary missions are expected to launch in the 2029-2031 timeframe and represent a new age of Venus exploration.
On June 10, 2021, Venus gained another future explorer when the European Space Agency (ESA) announced the selection of EnVision to make detailed observations of Venus. As a key partner in the mission, NASA is providing the Synthetic Aperture Radar, called VenSAR, to make high-resolution measurements of the planet's surface features.
Articles
The VASI (Venus Atmospheric Structure Investigation) instrument aboard NASA's DAVINCI mission to Venus, together with the other instruments on this mission, aims to investigate Venus' mysterious atmosphere by painting a more detailed picture of it than ever before.

NASA's DAVINCI mission will be the first mission to study Venus using both spacecraft flybys and a descent probe.

Venus Oxygen Fugacity (VfOx) is a small, button-sized sensor that will be designed, fabricated, tested, operated, and analyzed by undergraduate and graduate students as NASA's DAVINCI mission's Student Collaboration Experiment.

Short for Venus Mass Spectrometer, VMS is one of five instruments aboard the DAVINCI descent probe. Launching in 2029, DAVINCI will be the first US probe mission to enter Venus' atmosphere in over 40 years.

Almost 30 years have passed since NASA's Magellan mission last orbited Venus. That was NASA's most recent mission to Earth's sister planet, and while we have gained significant knowledge of Venus since then, there are still numerous mysteries about the planet that remain unsolved.
Volcanoes on Venus
Evidence abounds that volcanoes dot the solar system. Venus is one place where these phenomena exist, and Venusian volcanoes could even be active today. One thing about Venus that is unique to Venus is that some lavas are incredibly thick (half a kilometer high) and some are likely very thin (a centimeter thick). On Venus, the thickest lava flows make pancake domes while the thinnest lava flows make braided stream-like formations, similar to water running down a street.
Articles
Volcanic activity lasting hundreds to thousands of centuries and erupting massive amounts of material may have helped transform Venus from a temperate and wet world to the acidic hothouse it is today.

The quest to understand our solar system begins close to home. Volcanoes around the world help researchers interpret evidence of volcanic activity on other worlds in our solar system, including Venus. Getting to know Earth's volcanoes helps us understand how and when volcanoes erupt on other planets and moons.

Volcanoes expose the pulse of many planets and moons, offering clues to how these bodies evolved from chemical soups to the complex systems of gases and rocks we see today. Unearthing these clues is what motivates planetary scientists to venture to such inhospitable places on Earth as smoldering lava fields and glacier-covered volcanoes.
Other Resources
Other Resources
Learn about NASA's DAVINCI mission to Venus through this downloadable infographic.

Spacecraft go through a lot - exploring dangerous worlds across the cold expanse of space. Not to mention the chaos of a launch! So how do we build a mission that can take on dangerous environments and the harrowing trip to reach them? Explore the world of mission-building with scientists from Venus' DAVINCI mission: Deputy PI Stephanie Getty and Systems Engineer Matt Garrison.

Hear from VERITAS Project Systems Engineer John Brophy as he discusses the VERITAS mission to Venus.

Hear from DAVINCI Lead Project Systems Engineer Mike Sekerak as he discusses the DAVINCI mission to Venus.

Let's go to Venus! In 2021, two NASA missions were chosen to explore Earth's "twin" planet, Venus. But with extreme temperatures and toxic clouds, these missions have to prepare for a difficult journey. Join Venus experts Jim Garvin, Sue Smrekar, and Giada Arney on a tour of Earth's "twisted sister."

Join Dr. Lori Glaze, Director of Planetary Science at NASA, as she discusses NASA's upcoming missions to Venus.

Celebrate Venus, the Roman goddess of love, with these shareable space-themed valentines.