Introduction
This page showcases our resources for those interested in learning more about OSIRIS-REx. It includes activities that can be done at home as well as videos, animations, stories, and articles.
On this page:
Highlights
Videos & Animations
Activities
Stories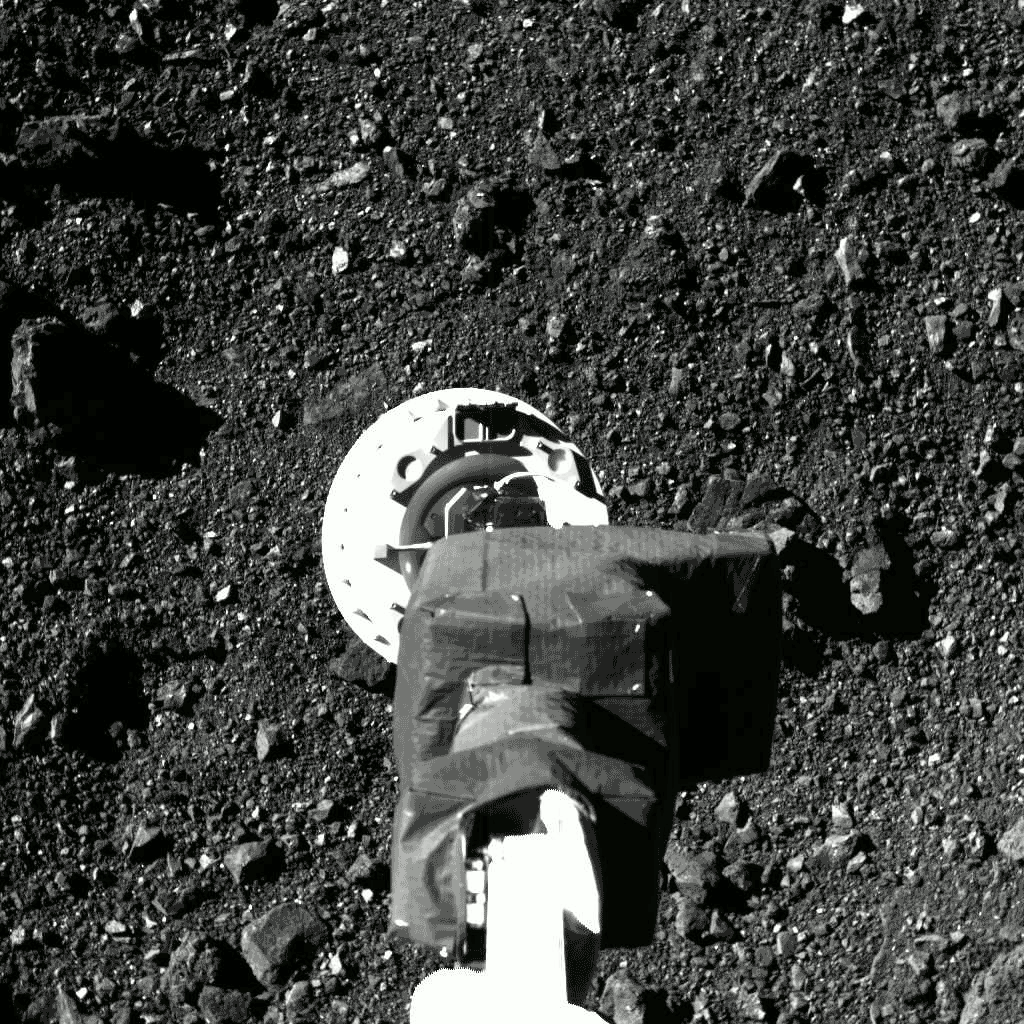 TAG
On October 20, 2020, the OSIRIS-REx spacecraft successfully touched the surface of the near-Earth asteroid Bennu and collected an abundant sample of the asteroid during the Touch-and-Go (TAG) sample collection event. The sampling event brought the spacecraft all the way down to sample site Nightingale, touching down within three feet (one meter) of the targeted location.
The process of actually selecting the sample site presented numerous challenges for scientists since Bennu is covered with large boulders.
Ever played the game of tag? Well, this is similar to how OSIRIS-REx was designed to grab a sample from Bennu!
Familiarize yourself with the OSIRIS-REx spacecraft and its Touch-and-Go Sample Acquisition Mechanism (TAGSAM) by constructing your very own paper spacecraft model.
Articles
Learn how the OSIRIS-REx spacecraft successfully stowed its Sample Return Capsule (SRC) and its abundant sample of asteroid Bennu.

Discover the incredible images taken by the OSIRIS-REx spacecraft on October 20, 2020, during the mission's Touch-And-Go (TAG) sample collection event.
Graphics
Return to Earth
On May 10, 2021, NASA's OSIRIS-REx spacecraft will say farewell to asteroid Bennu and begin its journey back to Earth. However, before departing for Earth on May 10, the OSIRIS-REx spacecraft will perform a final flyby of Bennu – capturing its last images of sample collection site Nightingale to look for transformations on Bennu's surface after the October 20, 2020, sample collection event.
During sample collection, the spacecraft captured a substantial amount of material from Bennu's surface, likely exceeding the mission's requirement of 2 ounces (60 grams). The spacecraft is scheduled to deliver the sample to Earth on September 24, 2023.
Articles
The OSIRIS-REx mission team completed a detailed safety analysis of a trajectory to observe sample site Nightingale from a distance of approximately 2.4 miles (3.8 kilometers). The spacecraft's flight path is designed to keep OSIRIS-REx a safe distance from Bennu while ensuring the science instruments can collect precise observations.
Other Resources