News
| September 23, 2015
Titan Flyby 113 (T-113): Sampling Titan's Atmospheric Outflow
Titan Flyby T-113: Sampling Titan's Atmospheric Outflow
This flyby will provide important information about Titan's upper atmosphere while the moon is in a sparsely sampled region of Saturn's magnetosphere.
This is an important flyby for Cassini's Ion and Neutral Mass Spectrometer (INMS), as it is one of only two passes (the pass known as "T-5," [April 2005] being the other one) over the dawn side of Titan during which INMS will sample the moon's neutral atmosphere and ionosphere.
Inbound toward the flyby, INMS will use a new instrument mode specifically designed to observe outflowing ions. The instrument will perform an energy scan to detect molecules of particular masses . At high altitude above Titan, INMS will observe ions flowing out from the moon's extended outer atmosphere. At closest approach, INMS will ride along with Cassini's RADAR, providing observations of both ions and neutrals.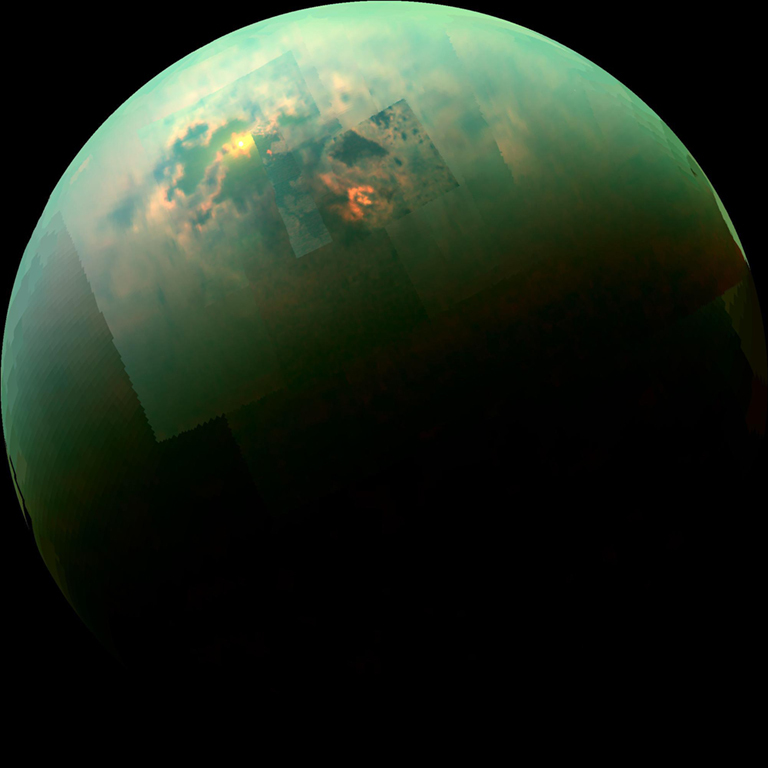 A dual playback -- in which Cassini is pre-scheduled to transmit the flyby data twice -- will be used to increase probability of safe return of data.
At lower altitudes around closest approach, the RADAR instrument will study the eastern portion of Titan's Xanadu region, making observations that will be used to make stereo (3-D) views of mountains in the region when combined with RADAR data from T-13. The visual and infrared mapping spectrometer (VIMS) will take data for a regional map. The map will show the transition from Titan's equatorial dune fields to Xanadu, with a footprint resolution better than 12 miles (20 kilometers) per pixel, VIMS will also capture a view of the Tui region (Tui Regio).