News
| March 6, 2005
Volunteer Network Provides Ringside Seat to Saturn
Volunteer Network Provides Ringside Seat to Saturn

March 7, 2005

(Source: Jet Propulsion Laboratory)

Experiencing Saturn through a telescope for the first time is a feast for the eyes. NASA's Cassini mission to Saturn is helping people savor the view by coordinating a network of people and telescopes around the globe to help others see the ringed giant.

The Cassini Saturn Observation Campaign includes more than 380 volunteers located in 44 U.S. states and 50 countries. During the past year, Saturn Observation Campaign members held nearly 800 events for more than 108,000 people from all ages and walks of life, including students, teachers and curious members of the public.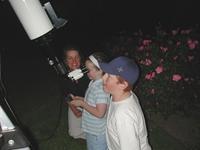 "I hosted a free public family show at our tiny school planetarium, and 150 enthusiastic viewers endured standing-room-only conditions just to get a glimpse of the program," said Bess Amaral, Saturn Observation Campaign member from St. Mark's School of Dallas. "The frosting on the cake was the entire group stayed for the telescope observation session of Saturn and Comet Machholz. Even though the line was huge at the observatory and the weather freezing, no one wanted to miss seeing Saturn and becoming part of astronomical history."
On weekend evenings, on a crowded sidewalk in Pasadena, Calif., you can find a crowd of people gathered near a large telescope or two, lining up for a peek. At the front of one line is Jane Houston Jones, a devoted amateur astronomer, focusing a telescope on Saturn. Jones is the Saturn Observation Campaign coordinator for the Cassini-Huygens mission at NASA's Jet Propulsion Laboratory, also in Pasadena.
"People are speechless when they first see Saturn with their own eyes. Everyone says 'wow,' and this means I hear 'wow' in many languages here in Pasadena," said Jones. Some people can't believe they are seeing the real thing, and accuse me of placing a tiny picture in the telescope. Some people actually cry with joy. I can connect with their emotions because Saturn was the first object I looked at through my very first home-made telescope many years ago."
When the Cassini spacecraft arrived at Saturn on June 30, 2004, the ringed planet had just disappeared from the nighttime view. But Saturn is now back in the evening skies and looks like a pale golden glow in the winter sky.
The best viewing this year will last through April 2005. In May, Saturn will dip lower in the sky, and by late June it will be lost in the glare of the setting Sun. The rings are now open wide, and even though the tilt of the rings has been decreasing since 2003, this year still offers a splendid view. With a small telescope you can see many features like the rings, the big gap between the rings and maybe even some storms or spots on the planet.
Saturn Observation Campaign members are provided with outreach resources, mission announcements, observation tips and techniques, and educational material.
"We take NASA's science from space exploration and translate it into something designed for local communities," added Alice Wessen, manager of solar system outreach at JPL. "Our Saturn Observation Campaign members know their backyards and NASA knows space. Together we share this experience with the community."
The program is much more than a sidewalk road show. "We partner schools or classes with one of our members who will help them plan an event," added Wessen. "First, we locate the Saturn Observation Campaign member closest to the school. Then we provide them with the materials on the mission. These activities are aligned with national science education standards and can be used in formal classroom settings."
To contact a Saturn Observation Campaign member in your area check the Web site at http://soc.jpl.nasa.gov/members.cfm . The site also has an online application for interested applicants, as well as prime viewing opportunities for the ringed giant planet.
For the latest images and information about the Cassini-Huygens mission, visit http://saturn.jpl.nasa.gov and http://www.nasa.gov/cassini .
The Cassini-Huygens mission is a cooperative mission of NASA, the European Space Agency and the Italian Space Agency. The Jet Propulsion Laboratory, a division of the California Institute of Technology in Pasadena, manages the mission for NASA's Office of Space Science, Washington, D.C. The Cassini orbiter was designed, developed and assembled at JPL.
Note to Broadcasters:
A video file with interviews and B-roll is scheduled to air on NASA Television on March 7, 8 and 9 at noon, 3 p.m., 6 p.m., 9 p.m. and midnight EST. NASA Television is available at AMC-6, Transponder 9C at 72 degrees West longitude, with vertical polarization. Frequency is on 3880.0 megahertz with audio on 6.8 megahertz.
Photo opportunities are available at the following events. Events are weather permitting. For same day updates please contact Carolina Martinez in the JPL Media Relations Office at (818) 354-9382.
--Friday, March 18 from 6 p.m. to 10 p.m. - Colorado Blvd. and Delacey, Pasadena, Calif.
--Saturday, March 19 from 6 p.m. to 10 p.m. - Corner of Myrtle & Lime, Monrovia, Calif.
Contacts:
Carolina Martinez (818) 354-9382
Jet Propulsion Laboratory, Pasadena, Calif.


NEWS RELEASE: 2005-040