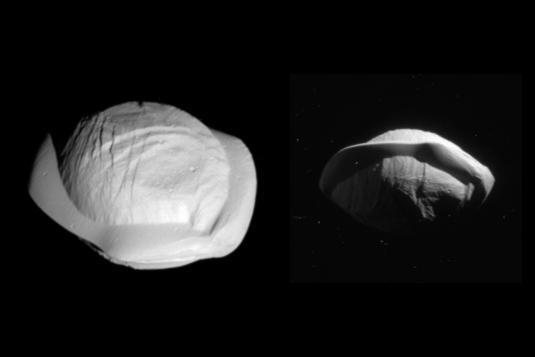 Discovery
Pan was discovered by M.R. Showalter in 1990 using images taken by the Voyager 2 spacecraft nine years earlier.
Overview
Pan, the innermost of Saturn's known moons, has a mean radius of 8.8 miles (14.1 kilometers) and orbits 83,000 miles (134,000 kilometers) away from Saturn, within the Encke Gap of Saturn's A-ring. As it orbits Saturn every 13.8 hours, it acts as a shepherd moon and is responsible for keeping the Encke Gap open. The gap is a 200 mile (325 kilometer) opening in Saturn's A ring.
Pan creates stripes, called "wakes," in the ring material on either side of it. Since ring particles closer to Saturn than Pan move faster in their orbits, these particles pass the moon and receive a gravitational "kick" from Pan as they do. This kick causes waves to develop in the gap and also throughout the ring, extending hundreds of miles into the rings. These waves intersect downstream to create the wakes, places where ring material has bunched up in an orderly manner thanks to Pan's gravitational kick.
Pan, like Saturn's moon Atlas, has a prominent equatorial ridge that gives it a distinctive flying saucer shape.
How Pan Got Its Name
Moons of Saturn were originally named for Greco-Roman Titans and descendants of the Titans. But as many new moons were discovered scientists began selecting names from more mythologies, including Gallic, Inuit and Norse stories.
Pan, a satyr (a creature resembling a man with the hind legs and hooves of a goat), is a Greek god of nature and the forest.​