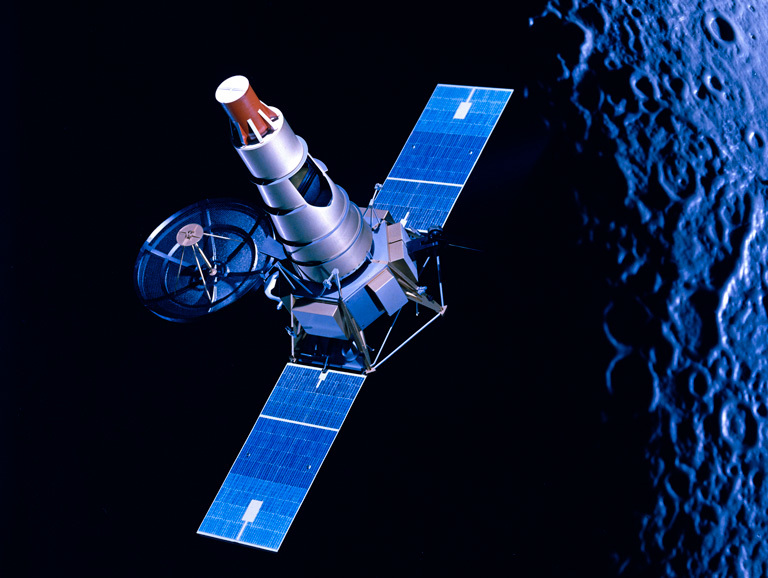 Fast Facts: Ranger 6
Ranger 6 was the closest tol success of NASA's series of lunar impact missions, but a short-circuit disabled the spacecraft before it could complete its mission.
The inoperable spacecraft impacted the Moon on target and on schedule.
| | |
| --- | --- |
| Nation | United States of America (USA) |
| Objective(s) | Lunar Impact |
| Spacecraft | P-53 / Ranger-A |
| Spacecraft Mass | 804 Pounds (364.69 Kilograms) |
| Mission Design and Management | NASA/Jet Propulsion Laboratory |
| Launch Vehicle | Atlas Agena B (Atlas Agena B no. 8 / Atlas D no. 199 / Agena B no. 6008) |
| Launch Date and Time | Jan. 30, 1964 / 15:49:09 UT |
| Launch Site | Cape Canaveral Air Force Station, Florida / Launch Complex 12 |
| Scientific Instruments | 1. Imaging System (Six TV Cameras) |
Results
This fourth American attempt to lunar impact was the closest success so far. The spacecraft, the first Block 3 type vehicle with a suite of six TV cameras, was sterilized to avoid contaminating the lunar surface.
The series would also serve as a test-bed for future interplanetary spacecraft by deploying systems (such as solar panels) that could be used for more ambitious missions. The Block 3 spacecraft carried a 381 pound (173 kilogram) TV unit (replacing the impact capsule carried on the Block 2 Ranger spacecraft). The six cameras included two full-scan and four partial-scan cameras, capable of shooting 300 pictures a minute.
Ranger 6 flew to the Moon successfully and impacted precisely on schedule at 09:24:32 UT on Feb. 2, 1964. Unfortunately, the power supply for the TV camera package had short-circuited during Atlas booster separation three days previously and left the system inoperable. The cameras were to have transmitted high-resolution photos of the lunar approach from 900 miles to 4 miles (1,448 kilometers to 6.4 kilometers) range in support of Project Apollo. Impact coordinates were 9 degrees 24 minutes north latitude and 21 degrees 30 minutes east longitude.
Source
Siddiqi, Asif A. Beyond Earth: A Chronicle of Deep Space Exploration, 1958-2016. NASA History Program Office, 2018.