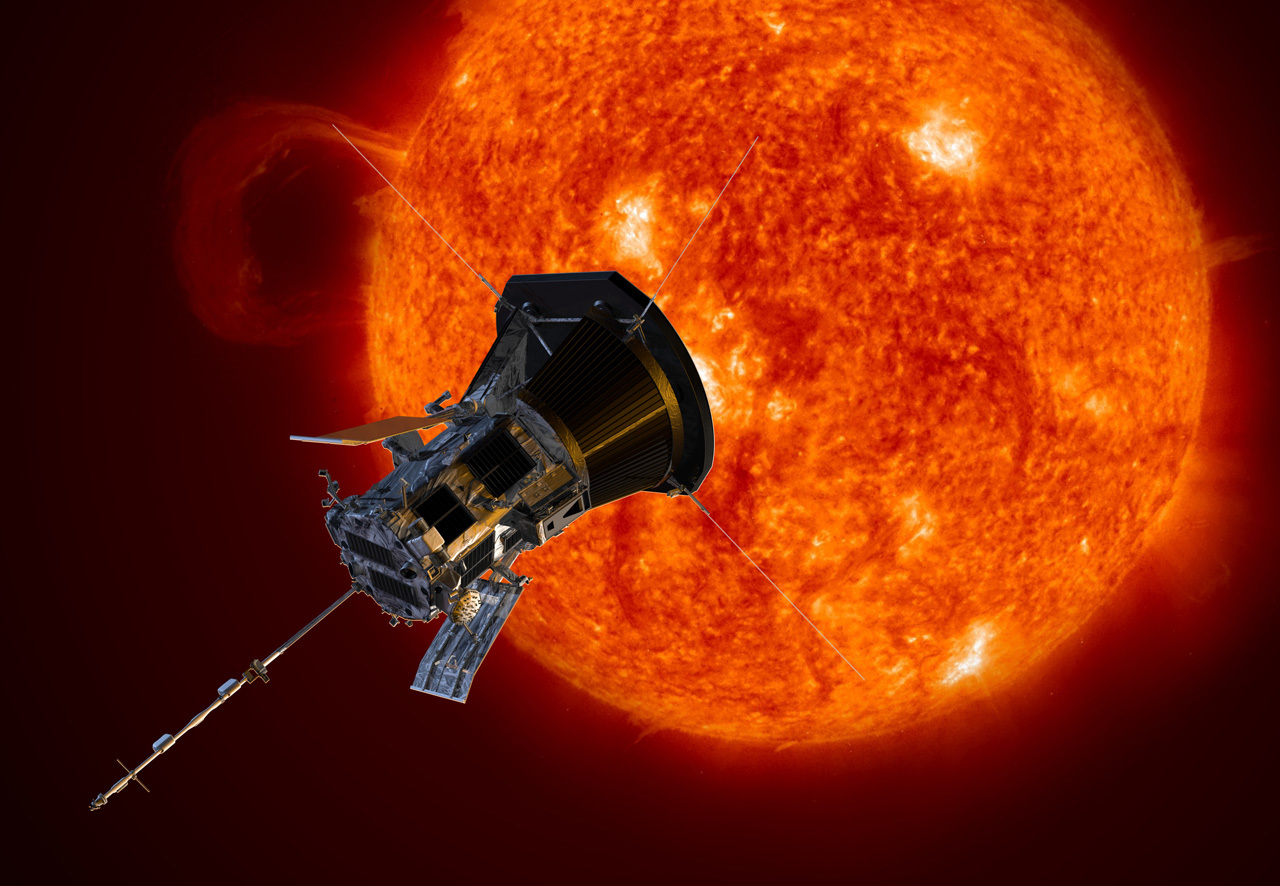 Nation
United States of America (USA)
Objective(s)
Solar Orbit
Spacecraft
Parker Solar Probe (Solar Probe Plus)
Spacecraft Mass
1,510 pounds (685 kilograms) at launch
Mission Design and Management
NASA's Goddard Space Flight Center / Johns Hopkins University Applied Physics Laboratory
Launch Vehicle
Delta IV-Heavy with Upper Stage
Launch Date and Time
Aug. 12, 2018 / 7:31 UTC)
Launch Site
Cape Canaveral Air Force Station, Fla.
Scientific Instruments
1. Fields Experiment (FIELDS)
2. Integrated Science Investigation of the Sun (IS☉IS ​)
3. Wide Field Imager for Solar Probe (WISPR)
4. Solar Wind Electrons Alphas and Protons (SWEAP)
At closest approach, Parker Solar Probe hurtles around the Sun at approximately 430,000 mph (700,000 kph). That's fast enough to get from Philadelphia to Washington, D.C., in one second.
To perform its unprecedented investigations, the Parker Solar Probe and its instruments are protected from the Sun by a 4.5-inch-thick (11.43 cm) carbon-composite shield, which can withstand temperatures reaching nearly 2,500 degrees Fahrenheit (1,377 Celsius).
In Depth: Parker Solar Probe
NASA's Parker Solar Probe is diving into the Sun's atmosphere, facing brutal heat and radiation, on a mission to give humanity its first-ever sampling of a star's atmosphere.
On Dec. 14, 2021, NASA announced that Parker had flown through the Sun's upper atmosphere – the corona – and sampled particles and magnetic fields there. This marked the first time in history, a spacecraft had touched the Sun.
Parker Solar Probe is designed to swoop within about 4 million miles (6.5 million kilometers) of the Sun's surface to trace the flow of energy, to study the heating of the solar corona, and to explore what accelerates the solar wind.
During its journey, the mission will provide answers to long-standing questions that have puzzled scientists for more than 60 years: Why is the corona much hotter than the Sun's surface (the photosphere)? How does the solar wind accelerate? What are the sources of high-energy solar particles?
We live in the Sun's atmosphere and this mission will help scientists better understand the Sun's impact on Earth. Data from Parker will be key to understanding and, perhaps, forecasting space weather. Space weather can change the orbits of satellites, shorten their lifetimes, or interfere with onboard electronics.
Parker can survive the Sun's harsh conditions because cutting-edge thermal engineering advances protect the spacecraft during its dangerous journey.
The probe has four instrument suites designed to study magnetic fields, plasma, and energetic particles, and image the solar wind.
The mission is named for Dr. Eugene N. Parker, who pioneered our modern understanding of the Sun.
Key Sources