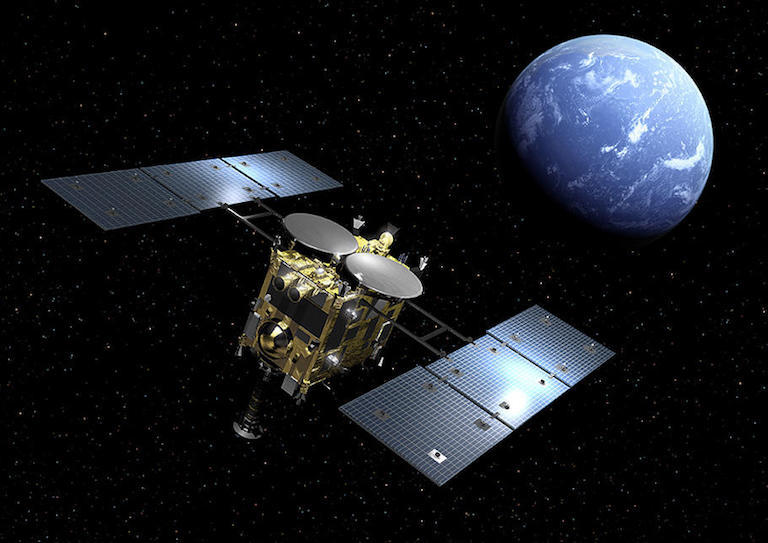 Hayabusa2 is a Japanese mission launched in December 2014 on a six-year mission to study asteroid Ryugu, and to collect samples to bring to Earth for analysis.
The Hayabusa2 spacecraft arrived at the asteroid in June 2018.

The spacecraft deployed two rovers and a small lander onto the surface.

Hayabusa2 fired an impactor into the asteroid in February 2019 to create an artificial crater. This allowed the spacecraft to collect a sample from beneath the surface of the asteroid.

Hayabusa2 delivered the asteroid sample to Earth on Dec. 6, 2020.

The spacecraft is now on an extended mission to the small asteroid 1998 KY26.
| | |
| --- | --- |
| Launch Date | Dec. 3, 2014 |
| Launch Site | Tanegashima Space Center, Tanegashima, Japan |
| Destination | Asteroid |
| Type | Orbiter, Sample Return, Lander, Rover |
| Status | Extended Mission In Progress |
| Nation | Japan |
| Alternate Names | 2014-076A, 40319 |
Firsts
Hayabusa2 deployed the first rovers to operate on an asteroid.
Key Dates
Dec. 3, 2014: Launch
Dec. 3, 2015: Earth Flyby
June 27, 2018: Arrival at Asteroid Ryugu
Sept. 21, 2018: Deployment of two Minerva-II1 rovers
Oct. 3, 2018: Deployment of MASCOT lander
Oct. 14, 2018: Rehearsals began for touchdown on the asteroid
Early 2019: Deployment of impactor followed by touchdown to gather a sample
July 2019: Deployment of remaining rovers
Nov. - Dec. 2019: Spacecraft departs asteroid
Dec. 6, 2020: Hayabusa2 delivered an asteroid sample to Earth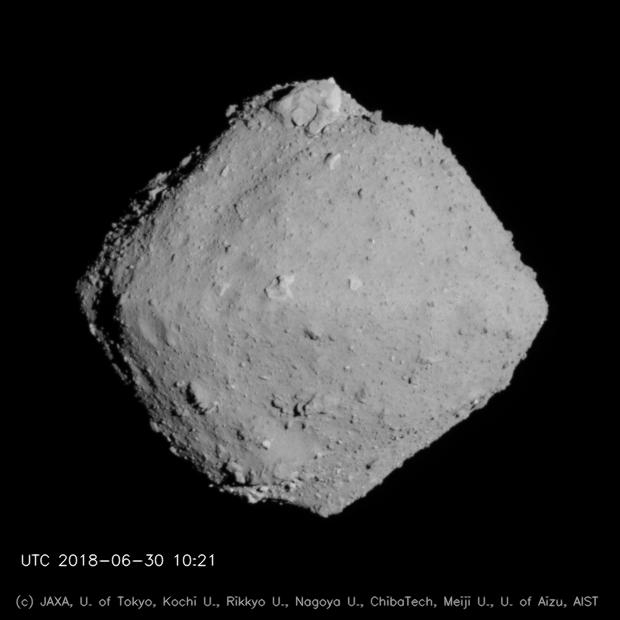 In Depth
Objective: Asteroid Rendezvous and Sample Return
Spacecraft Mass: 1,323 pounds (600 kilograms)
Mission Design and Management: JAXA
Scientific Instruments:
1. Near-infrared spectrometer (NIRS3)
2. Thermal infrared imager (TIR)
3. Multiband imager (ONC-T)
4. Laser altimeter (LIDAR)
5. Separation camera (DCAM)
MASCOT:
1. MicrOmega infrared microscope
2. Magnetometer (MAG)
3. Radiometer (MARA)
4. Wide-angle camera (CAM)
Hayabusa2 is a Japanese spacecraft that landed on asteroid Ryugu (162173), dispatched a series of landers and a penetrator, collected multiple samples from the asteroid, and then delivered the samples to Earth.
The spacecraft is now on an extended mission to the small asteroid 1998 KY26.
Hayabusa2 is a follow-up to Japan's original Hayabusa mission, which was the first spacecraft to take samples from an asteroid and also the first mission to successfully land and take off from an asteroid. It returned the samples from asteroid 25143 Itokawa to Earth on June 13, 2010.
The Hayabusa2 mission is similar to NASA's OSIRIS-REx mission to asteroid Bennu. OSIRIS-REx successfully collected a sample from Bennu in October 2020 and will bring it to Earth in 2023. Both missions explored carbonaceous asteroids, which are thought to be the rocky building blocks of the early solar system. These asteroids could help scientists better understand how the solar system formed, and how life later emerged.
NASA and JAXA forged an agreement to share samples from each mission in order to give scientists everywhere as much material as possible to closely study and compare. The plan also means the OSIRIS-REx mission team will certainly benefit from any early discoveries or lessons learned from the Hayabusa2 mission.
The Hayabusa2 spacecraft arrived at asteroid Ryugu in June 2018. There, the spacecraft deployed rovers and landers onto Ryugu's surface and collected a sample.
Almost two years later, Hayabusa2 delivered the asteroid sample to Earth. On Dec. 6, 2020, the spacecraft swooped by Earth to drop a landing capsule containing the asteroid sample. The capsule made a fiery entry through our planet's atmosphere and parachuted to a soft landing inside the Woomera Range Complex in the South Australian outback.
A JAXA recovery team retrieved the capsule, then took it to a nearby portable lab to inspect and secured it for travel back to Japan.
Keiko Nakamura-Messenger, a scientist and collection curator with NASA's Astromaterials Research and Exploration Science Division (ARES), will oversee the care and safe handling of the U.S. portion of the Hayabusa2 sample. She and her colleagues will go to work inside a brand new lab in Houston built specifically for characterizing, documenting, storing, and preparing samples for study by ARES and other researchers.
The Hayabusa2 sample will become the seventh curated extraterrestrial collection humans have curated from beyond our planet, and serve as a precursor for the important curation work that lies ahead in the new ARES lab when the Bennu samples arrive.
"When I was in college in Japan in the 1990s, my college adviser told me about how the only samples we had were from the Apollo missions, plus meteorites that landed on Earth or cosmic dust found floating in the stratosphere," said Nakamura-Messenger. "Now, I'm going to be one of the first people to touch this new astromaterial. It's a great honor to see the sample before virtually anyone else can."
Joining Nakamura-Messenger in the work are fellow ARES researchers Christopher Snead, Ann Nguyen, and Mike Zolensky.
"It's exciting that this will be the first asteroid sample of its kind in-house," said Snead. "To get ready, we're finishing a new lab, as well as installing and configuring special equipment in order to work with samples that we expect will be made up of small particles and very, very tricky to handle."
Nakamura-Messenger and Snead will personally travel to Japan in December 2021 to bring the NASA sample back to Johnson.
Additional Resources
Key Sources